Boysenberry Bright Prospect
Tasting Notes:
Aged on Oak and Boysenberries, our big and bold Bright Prospect Belgian Golden Ale is beautifully complex. Boysenberries lend a tangy berry-like flavor and the oak a delicate vanilla sweetness to the spicy clove, overripe fruit, and malty backbone of this audacious ale. At 9.8% ABV Oak Aged Boysenberry Bright Prospect is a special brew worth saving for a special occasion.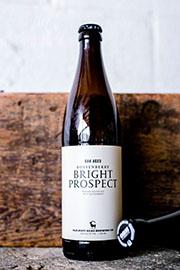 Ingredients:
Fauquier County Well Water, Pilsen Malt, 2 Row Brewer's Malt, Munich Malt, Victory Malt, Belgian Candi Syrup, Sorache Ace Hops, Boysenberries, Belgian Yeast.
Statistics:
ABV 9.8%
IBU 10
SRM 7
OG 19.8
​FG 2.0