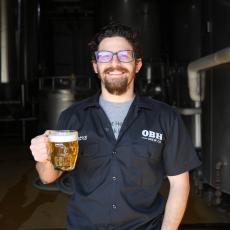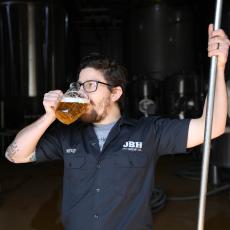 Mike Sutherland
Brewmaster
Mike Sutherland , Brewmaster
With 7 years of experience working in the beer industry, we're lucky to call Mike our Brewmaster! In college, Mike took course in beer and wine making and knew his future career would be in a brewhouse instead of a cubicle. His favorite part of the job is being able to develop raw materials into a finished product and, even on the hardest days, being able to walk away having made a brew he's proud of. His favorite beer is an easy-drinking style he can kick back and pour a few of. When he's not brewing beer you can find Mike playing music, hiking, hunting or spending time with his son.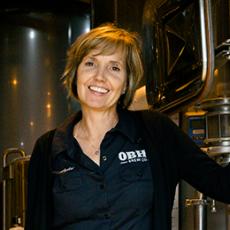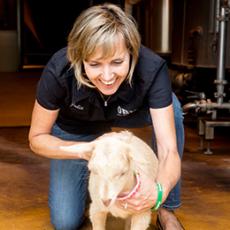 Julie Broaddus
Owner-Operator
Julie Broaddus, Owner-Operator
It's impossible to summarize everything Julie does for the company, but we'll do our best! Chances are, if it has to do with the beer, brand, or taproom, Julie has had her hand in it. Originally from San Jose, California, Julie has spent the last 35 years calling Virginia home. When she's not helping to create delicious and funky beers, you'll find her enjoying time outside in nature, working in the barnyard with her goats, chickens, rabbits, and ducks, completing a New York Times crossword, playing a game of bridge or attempting Chopin nocturnes on the piano. Her favorite OBH memory? Setting up our first Holiday Market!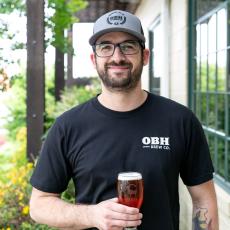 Jay Bergantim
Small Batch Brewmaster
Jay Bergantim, Small Batch Brewmaster
Born and raised in Southeastern, MA, Jay has been in the beer industry for 11 years (and drinking beer for longer!) Although Jay will tell you he's not a fan of being in the spotlight, having two Gold Medal-winning beers from the Virginia Beer Cup under his belt is proof of his talent and passion for brewing. His favorite beer style is anything dry, crisp, and hoppy.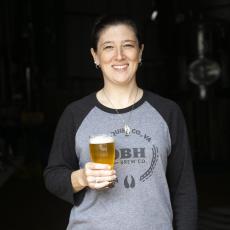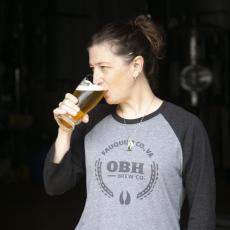 Erica Davidson
Quality Assurance Manager
Erica Davidson , Quality Assurance Manager
Erica's job may be behind the scenes but, while her work begins in the lab, it ends with the beer in your hand and ensures that each glass maintains the consistent quality you've come to expect. A big fan of the outdoors, Erica has biked the C&O Towpath twice (184.5 miles between Georgetown and Cumberland, MD) and enjoys other nature-inspired activities like camping, especially when accompanied by her pup Ellie. Her favorite OBH beer? Graffit House West Coast IPA & Water Dog IPA!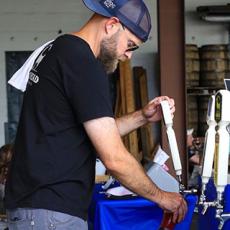 Mark Mannix
Supply Chain Manger, Beertender, Team Lead
Mark Mannix, Supply Chain Manger, Beertender, Team Lead
Mark is well into his 5th year as a beer tender at OBH and is a rock of the Old Bust Head weekend team.  An active home-brewer, and Cicerone Certified Beer Server, Mark is ready to go deep into the details with any customer.  Behind the scenes Mark manages the taproom beer inventory and supply chain and represents the taproom in all beer-related decisions including what styles to put on tap.  So love that gose?  Want an Italian lager, or have a favorite New Zealand hop?  Mark is the guy behind the bar who can help make it happen.
Email Mark at mark@oldbusthead.com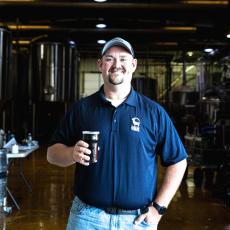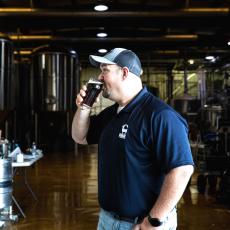 Scotty Knox, Sales Rep
Scotty started his journey in the beer industry 7 years ago as a delivery driver—you could still say Scotty delivers beer, but now it's to store shelves as an OBH sales rep! Scotty's favorite part about working in craft beer is talking shop with other people in the industry and learning about all the different beers in the market. If he had to choose one beer style to drink for the rest of his life it would be a Pilsner, since it fits with his lifestyle of camping in his 5th wheel camper and going to games. At the top of his bucket list is a trip to Tallahasse, FL to see a Seminoles game in-person. Scotty's favorite OBH Beer? Vixen Irish Red!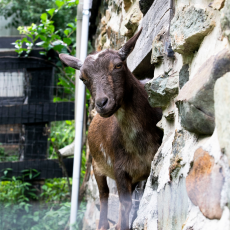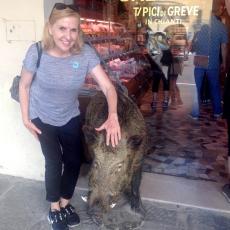 Carol Goode, Accounting
Carol would like you to know accountants can be funny too! Having been here from the very beginning, she remembers our very sophisticated accounting system back in the day when we served our beer out of the production warehouse. It involved bags of raffle tickets and let's just say she's happy we've moved on to more traditional methods of keeping track of our inventory! Although she was born in Turkey, Carol has been a longtime resident of Virginia. When she's not at work, making home improvements indoors and out, cooking and catching up on anything PBS Masterpiece—her favorites include The Durrells in Corfu, Unforgotten, and All Creatures Great & Small. Carol's favorite OBH beer? Vixen Irish Red.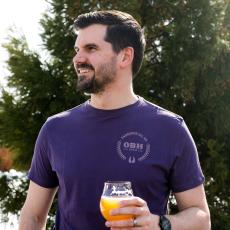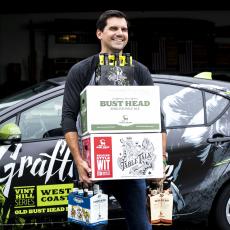 Dan Barrett
Special Projects
Dan Barrett, Special Projects
From designing new merch for the taproom, booking our live music, accounts payable, responding to customer questions, (his most common question: Is Old Bust Head dog friendly? Answer: Heck yeah!)—Dan wears a lot of hats here at Old Bust Head. No matter the task, Dan brings a fresh perspective and his favorite part about his job is seeing the payoff when customers are enjoying great beer and each others company. When not at work, you can find Dan enjoying his time off playing music, spending time with his wife or supporting his favorite sports team the Washington Capitals. "C-A-P-S caps caps caps!"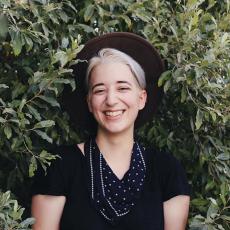 Cara O'Neal
Digital Media, Events
Cara O'Neal, Digital Media, Events
Photographer, graphic designer, social media guru, customer inquiry response specialist, what more could you ask for?  Cara has been with OBH for 6 years - starting as a beertender and now working in the back office, she loves that her job looks a little different every day and stokes her creative fire.  When she's not having a glass of her favorite OBH beer, Tangerine Pineapple Imperial Sour, she's off exploring new levels of spiciness from her growing collection of hot sauces.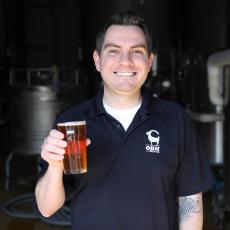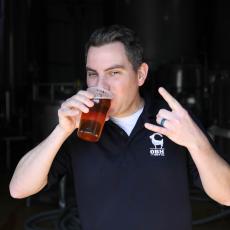 Eli Fiorillo
Taproom Manager, Event Planning
Eli Fiorillo, Taproom Manager, Event Planning
Eli joined our team in 2019 and has been helping pull off events like our Spring/Holiday Markets, car shows, and Benefit 5K ever since. You might find him hanging decorations in the taproom or running sound check at our monthly Open Mic (you might even find him performing on stage)—Eli does a little bit of everything to make sure our events go smoothly but the good news is that says all that hard work is what makes the job rewarding! Eli's favorite OBH beer? Pineapple Certain Swagger. 
Email Eli at eli@oldbusthead.com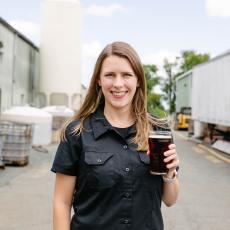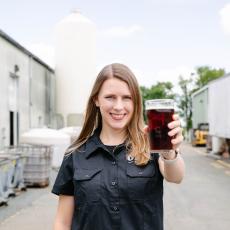 Katie Cajayon
Venue Manager
Katie Cajayon, Venue Manager
Want to host a private event at OBH? Talk to Katie! Katie is not only one of the friendliest people we've ever met, but she also knows all the ins and outs of our rental spaces here at the taproom. Although she just joined our team in 2022, Katie grew up living right here in Vint Hill, so you could still say she's an OG! Katie's favorite things are her family, charcuterie boards, and trips to the nearest body of water. We're big fans and we're sure you will be too. 
Email Katie at katie@oldbusthead.com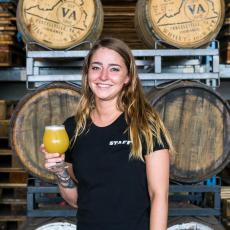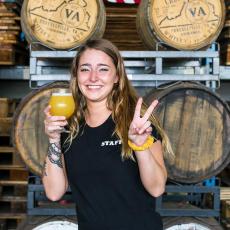 Alexis Kuiper
Taproom Assistant Manager
Alexis Kuiper, Taproom Assistant Manager
Originally hailing from the mid-west (specifically, South Dakota) Alexis is one of the sweetest members of our taproom team! As a big craft beer fan, Alexis is a perfect fit for the team and a great person to ask when you need a recommendation—when she's not on the clock you can find her drinking her favorite OBH IPA or Imperial Sour or exploring other Virginia craft breweries. Some of Alexis' other hobbies include hiking, paddle boarding, painting and off-roading—say hi if you see her behind the bar!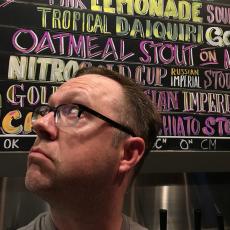 Kirk Heydt
Beertender & Chalk Artist
Kirk Heydt, Beertender & Chalk Artist
If you see lights on at OBH at 1am, it is most likely Kirk Heydt putting up some new chalk art to inspire customers as they walk through the door—though his humble nature probably keeps most customers in the dark about this talent. Years home brewing with his family-in-law, Kirk's beer knowledge is both studied and hands on. Almost 6 years beer tending at OBH, and a veteran of the OBH's in-house two year BJCP training, Kirk's experience, kindness, humility, and talent have earned him a place in the heart of OBH customers.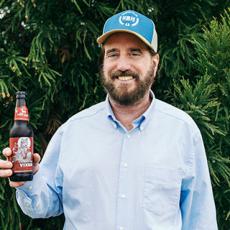 Kevin Predmore
Beertender, Office Admin
Kevin Predmore, Beertender, Office Admin
KEVIN PREDMORE's deadpan humor is not lost on OBH regulars.  But don't let the kilt, pirate, or St. Patrick costume throw you off. In addition to completing the 2 year BJCP training at OBH, Kevin is a Cicerone Certified Beer Server, and gives a straight answer when it comes to anything beer-related.  #1 in devotion, Kevin has made the brewery his home since nearly OBH-day-one, and can always be found there—whether on or off the clock—making the customer experience and the OBH team as good as it can be.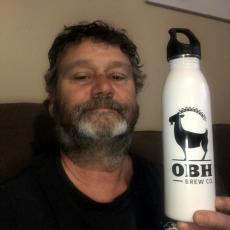 Mark Libby
Equipment Tech
Mark Libby, Equipment Tech
Mark is responsible for keeping the wheels turning here at OBH! Easily one of the handiest people we know, if something goes wrong in the taproom, warehouse, or production facitliy, chances are we're calling Mark. His favorite part of the job is working with all the great people at OBH and the flexibility he has to complete the many diverse maintenance and repair requirements of a craft brewery (for which, we are all thankful). His favorite OBH beer is Made in the Shade or any hoppy, citrusy IPA. When he's not at work, Mark enjoys spending time with his wife Deborah, weekly golfing, and spending time with his two grandkids.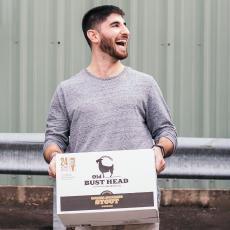 Anthony Cafiero
Brewer, Cellar Manager
Anthony Cafiero, Brewer, Cellar Manager
Anthony has been at OBH for 3 years as one of our brewers and, more recently, as our Cellar Manager. As a big fan of the craft beer industry, Anthony loves getting to learn new brewing techniques, particularly by experimenting with specialty beers on our 7bbl system. Besides beer, Anthony is an even bigger fan of baseball and has made it a lifelong mission to visit all 30 MLB Stadiums (he's already visited 18)! When he's not brewing beer or talking baseball, Anthony enjoys golfing, snowboarding, and visiting breweries with his wife Marissa. His favorite OBH beers are Cosmo Kreamer, our 7th Anniversary Honey Tripel, and Ultra Top Secret.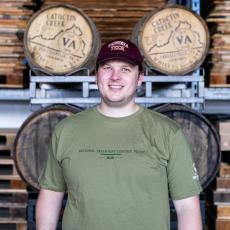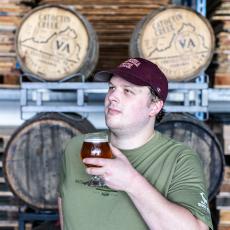 Richard Neufield , Brewer
A Fairfax County native with a passion for creating new and unique beers, Richard is a valuable part of our brewing team! In his free time, Richard enjoys going to local breweries and wineries (you could call it research) always thinking about how we can expand our own horizons. When he's not thinking about beer you can find him spending time with his wife Annie and their 9 year old Cocker Spaniel Chewbacca.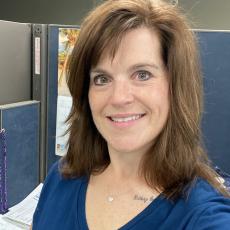 Christa Bauserman
Beertender
Christa Bauserman, Beertender
Christa loves craft beer almost as much as her Border Collie Jet, glamping, and rewatching Bloodline (she's watched it about 10 times and has even been to some of the filming locations!) Christa is a real craft beer lover who loves meeting new customers and working side by side with the OBH crew. Her favorite OBH beers are our sours and Sky Meadows Blonde Lager!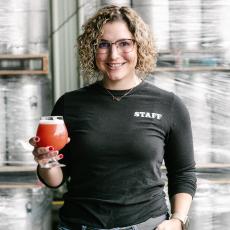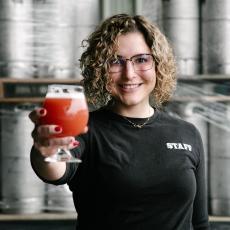 Kristy Bergantim
Beertender
Kristy Bergantim , Beertender
Kristy is one of those people you just like to be around, with an infectious smile, and vibrant personality. Originally from Berkley, MA, Kristy and her husband Jay (our brewmaster!) moved to Virginia and now live nearby with their dog Hunter who also happens to be the inspiration behind our Water Dog IPA! When she's not behind the bar, Kristy works as a personal trainer, or you might find her watching reruns of Golden Girls, Seinfeld, or The Office. Her favorite OBH beer? Any of the sours or stouts, or (of course) Water Dog IPA!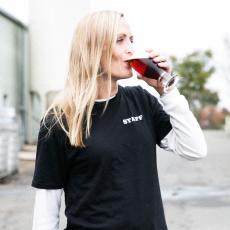 Stephanie Fitzpatrick
Beertender
Stephanie Fitzpatrick , Beertender
A long time Virginia native (Northern VA to Richmond and then back again) Stephanie is a mom of two girls, two corgis, and a member of our taproom team! You'll find her behind the bar most trivia nights, catching up with our regulars, or helping new customers find their favorite beer. When she's not at the taproom, you'll probably find Stephanie working up a sweat as a fitness instructor (sign up for one of her spin classes at Lifetime)! Her favorite OBH beer is a good DIPA or a classic like our Vixen Irish Red.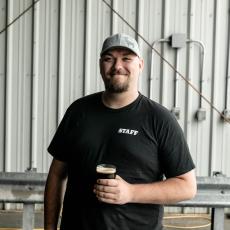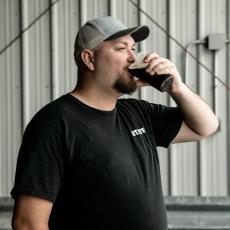 Anthony McCombs
Beertender
Anthony McCombs, Beertender
A new addition to the OBH team, Anthony is eager to learn about the craft beer industry and came to the right place! Not only is Anthony an accomplished singer, when he's not working, he spends time giving back to his local community as a swim coach. If you're looking for a beer recommendation, Anthony is likely to suggest his favorite on tap—our Irish Extra Stout.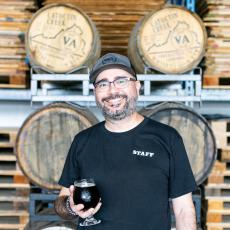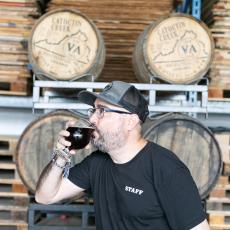 Ricardo Padilla
Beertender
Ricardo Padilla , Beertender
Already with a full-time job as Head of School, part-time gigs in television, big screen, and theatre acting, Ricardo decided to add Beertender to his list of job titles and recently celebrated 2 years of working at OBH in 2022. For Ricardo, the best part about working in craft beer is the variety of people he meets working behind the bar, discussing music, pop culture, and, of course, craft beer. At the top of Ricardo's Bucket List is retiring to a European village, probably tossing back a few easy drinking lagers, his favorite style of beer.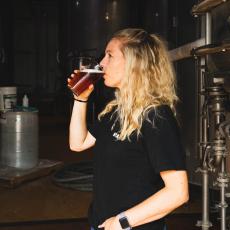 Kelly Stone, Beertender
Although she used to work at wineries, Kelly has her feet firmly planted in the beer industry now (and we're lucky to have her)! Kelly enjoys talking to customers and helping them have a great experience at the taproom. If you ask, she would probably recommend one of our seasonal ales (her current favorite is our Summer Ale) but she's also branching out into IPAs.  When she's not at work, Kelly enjoys hiking and has a goal to make it to all of the National Parks—currently at 25!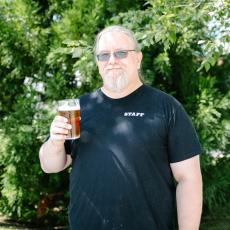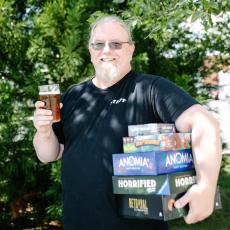 Josh Talley
Beertender, Games Master
Josh Talley, Beertender, Games Master
Not only is Josh one of our Beertenders, he also happens to be our Games Master! What does that mean? Glad you asked! Josh would like to one day open his own Game Store/Tavern, but until then you can find him hosting a monthly Board Game Day right here at the taproom. With a variety of tabletop games available to play (or you can bring your own) Josh is there to show you the ropes. This is a fun event for the whole family, made even more fun with craft beer #beerandboardgames! His favorite part of working behind the bar is talking about beer with his co-workers and customers. If you ask, he'll probably recommend one of our stouts or his current favorite, our Double Vixen Imperial Red Ale.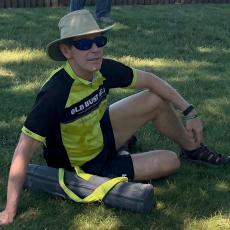 Steve Herholtz
Brand Ambassador Program Supervisor