On Tap
Sixth Barrel
Half Barrel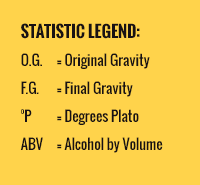 Cafe´ Vanilla
Porter
Tasting Notes
This decadent brew was made with Madagascar vanilla beans and rich coffee concentrate. If it wasn't cold and carbonated, you might mistake it for your morning cup of coffee!
Ingredients
Ingredients: Fauquier County Well Water, 2-Row Brewer's Malt, 2-Row Chocolate Malt, Special Roast Malt, Victory Malt, Perle Hops, Goldings Hops, Willamette Hops, Ale Yeast.
Special Ingredients: Chestnut Flour, Blackstrap Molasses, Monument Coffe Roasters Coffee Concentrate, Madagascar Vanilla Beans, Cane Sugar.
Statistics
OG  12.0 °P
FG  2.5 °P
ABV  5.1
IBU  28
SRM 23
On Tap
Sixth Barrel
Half Barrel