Cranberry Bright Prospect
Tasting Notes:
Even with a hearty 9.8% ABV, Cranberry Bright Prospect is still a highly drinkable beer. With a distinct aroma of ripe cranberry followed by notes of pear and a touch of spicy cloves, this medium bodied brew with a rounded malt backbone arrives just in time for holiday festivities.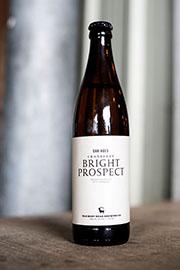 Ingredients:
Fauquier County Well Water, Pilsen Malt, 2 Row Brewer's Malt, Munich Malt, Victory Malt, Belgian Candi Syrup, Sorache Ace Hops, Cranberries, Belgian Yeast.
Statistics:
ABV 9.8%
IBU 10
SRM 7
OG 19.8
FG 2