Dark Saison Red Wine Barrel Aged
Tasting Notes:
The Oaks rested for 6 months in a mix of Merlot and Malbec wine barrels, imparting aromas of dry red wine, crushed black currant, and light spice over our dark saison base. With a bit of warmth, a complex pallet of red wine, tannins, blackberry, oak, and subtle dark malt opens up, making The Oaks one of our most unique beers to date.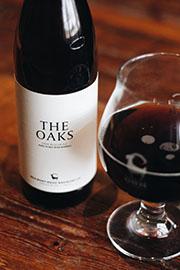 Ingredients:
Ingredients: Fauquier County Well Water, Brewer's Malt, Red Wheat Malt, Rye Malt, Flaked Oats, Victory Malt, Extra Special Malt, Sorachi Ace Hops, Saaz Hops, Saison Ale Yeast. 
Statistics:
ABV  6.8%
IBU  40
SRM  17
OG  14.9°P
FG  2.2°P
199