Pineapple Mango Graffiti House
Tasting Notes:
This variant of one of our most popular beers uses a mango and pineapple puree to enhance the flavors found naturally in Mosaic, the showcase aroma hop used in our West Coast IPA. Pineapple Mango Graffiti House is subtly sweet with a welcome bitterness at the back end that balances out all that delicious tropical flavor.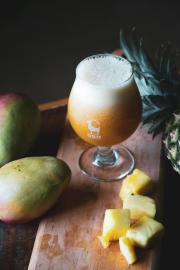 Ingredients:
Fauquier county well water, 2-Row, Brewer's Malt, Cara-Pils Malt, Caramel 10L Malt, Special Roast Malt, CTZ Hops, Mosaic Hops, Cascade Hops, Mango Puree, Pineapple Puree, Ale Yeast.
Statistics:
ABV - 7.5%
IBU - 75
SRM - 11
OG - 17.4 °P
FG - 3.6 °P