Watermelon Bright Prospect
Tasting Notes:
Big and bold, but supremely drinkable, Watermelon Bright Prospect puts a summer twist on one of Belgium's most famous styles. Juicy watermelon complements the spicy clove, overripe fruit, and malt backbone of this 9.8% golden ale.  Consume when you can kick back—we're pretty sure this is what summer tastes like.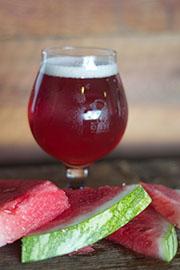 Ingredients:
Fauquier County Well Water, Pilsen Malt, 2 Row Brewer's Malt, Munich Malt, Victory Malt, Belgian Candi Syrup, Sorache Ace Hops, Watermelon, Belgian Yeast.
Statistics:
ABV - 9.8%
IBU - 10
SRM - 7
OG - 19.8 °P
FG - 2 °P