Wildcat
India Pale Ale
Tasting Notes
We're excited to announce a new recipe for our Wildcat IPA now a bit more feisty than the original with the addition of Centennial and Galaxy hops.  These new hop and dry hop additions lend a  bit of orange zest and grapefruit along with a piny finish to Wildcat's delicate herbal complexity. Red wheat malt and oats combine with citrus notes so that the new wilder Wildcat remains smooth and approachable.
About the Name
The name 'Wildcat' recalls Fauquier County's infamously independent-minded 'Free State' community that once occupied roughly 12 square miles of hilly terrain from Wildcat Mountain to Thumb Run.  This area was first settled by tenant farmers who tamed the land for the ultimate benefit of their wealthy absentee landlords.
In time, however, these setters were no longer interested in recognizing the claims of the lawful owners, or any outside authority for that matter.  For generations, they lived relatively independent of local governance recognizing only the authority of those characters who earned their high regard for one reason or another, claiming the title 'King of the Free State'.
It is said that the first King of the Free State was a huge and intimidating man who lived at the base of Wildcat Mountain.  Charlie Ashby, who adorns our Wildcat label, was the last legendary King of the Free State.  He was known as a crack-shot and a bit of a wild hare, and was recalled thus in a local history:  Charlie was "large, of medium height and small, but one fact is sure, his whiskers were magnificent."
We hope you'll agree, and will remember to go your own way as you enjoy our Wildcat IPA.
*We'd like to thank the Fauquier Heritage and Preservation Foundation for allowing us to use their photo portrait of Charlie Ashby as a reference for our label art.  If you'd like to see the original photo, or to learn more about Fauquier's Free State history, please visit them at 4110 Winchester Road, Marshall, Virginia or on the web at
www.fhpf.org
/ , or call (540) 364-3440.  You can also read more about the Free State by following this link to the Fauquier Historical Society's historical bulletin:
www.fauquierhistory.com/ckfinder/userfiles/files/Free%20State.pdf
READ LESS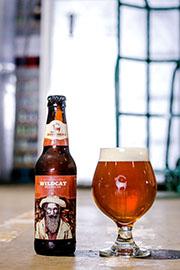 Ingredients
Fauquier County Well Water, 2-Row Brewer's Malt, 2-Row Carapils Malt, Caramel 10L Malt, Centennial Hops, Galaxy Hops, Saaz Hops, Ale Yeast. 
Statistics
O.G. 14.6 °P
F.G. 3.1 °P
ABV 6.2%
IBU 50
SRM 4