January 31, 2022
Bust Head-Battered Fried Chicken
By Kaitlin Hill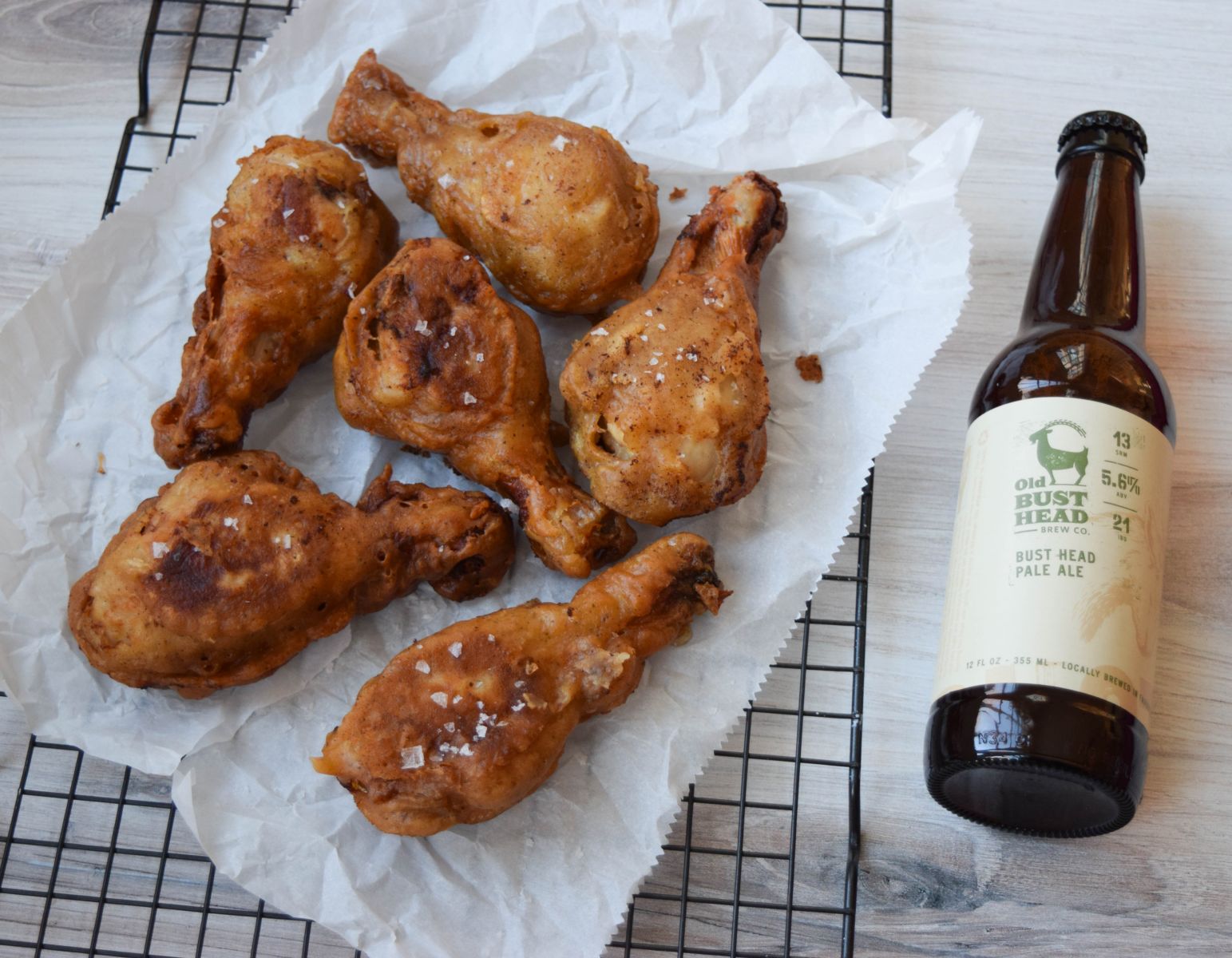 My Bust Head-Battered Fried Chicken may just become your new favorite fried chicken. The spiced buttermilk bath results in extra juicy chicken legs while the addition of Bust Head English Style Ale imparts flavor and creates a seriously crunchy exterior. The batter can be made in advance and sit for a few hours in the fridge while the chicken marinates. When it's time for dinner, all you have to do is dip, fry, and eat. You can use the batter on thighs and legs or use it to coat wings with a slightly shorter fry time. It's the perfect game day snack or weekday dinner to enjoy with a bottle of Bust Head to wash it all down.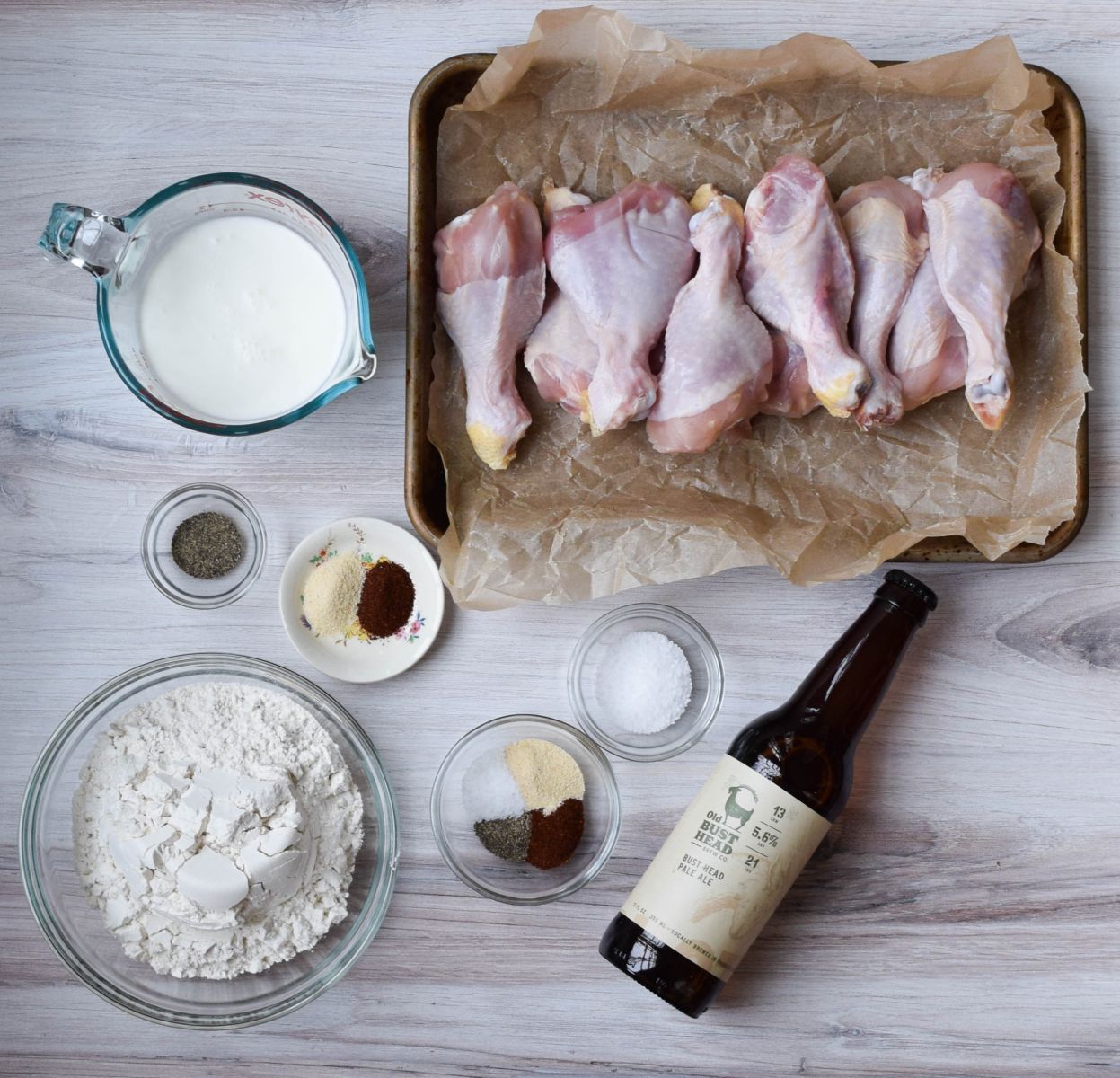 Ingredients: 
Marinade: 
1 ½ cups of buttermilk 
1 tablespoon of salt 
1 ½ teaspoons of black pepper 
1 teaspoon of chili powder 
1 teaspoon of garlic powder 
2 – 3 pounds of bone-in, skin-on chicken legs
Batter: 
1 cup of all-purpose flour 
1 teaspoon of garlic powder 
1 teaspoon of chili powder 
1 teaspoon of salt 
1 teaspoon of black pepper 
12 ounces of Bust Head English Style Ale 
Vegetable oil for frying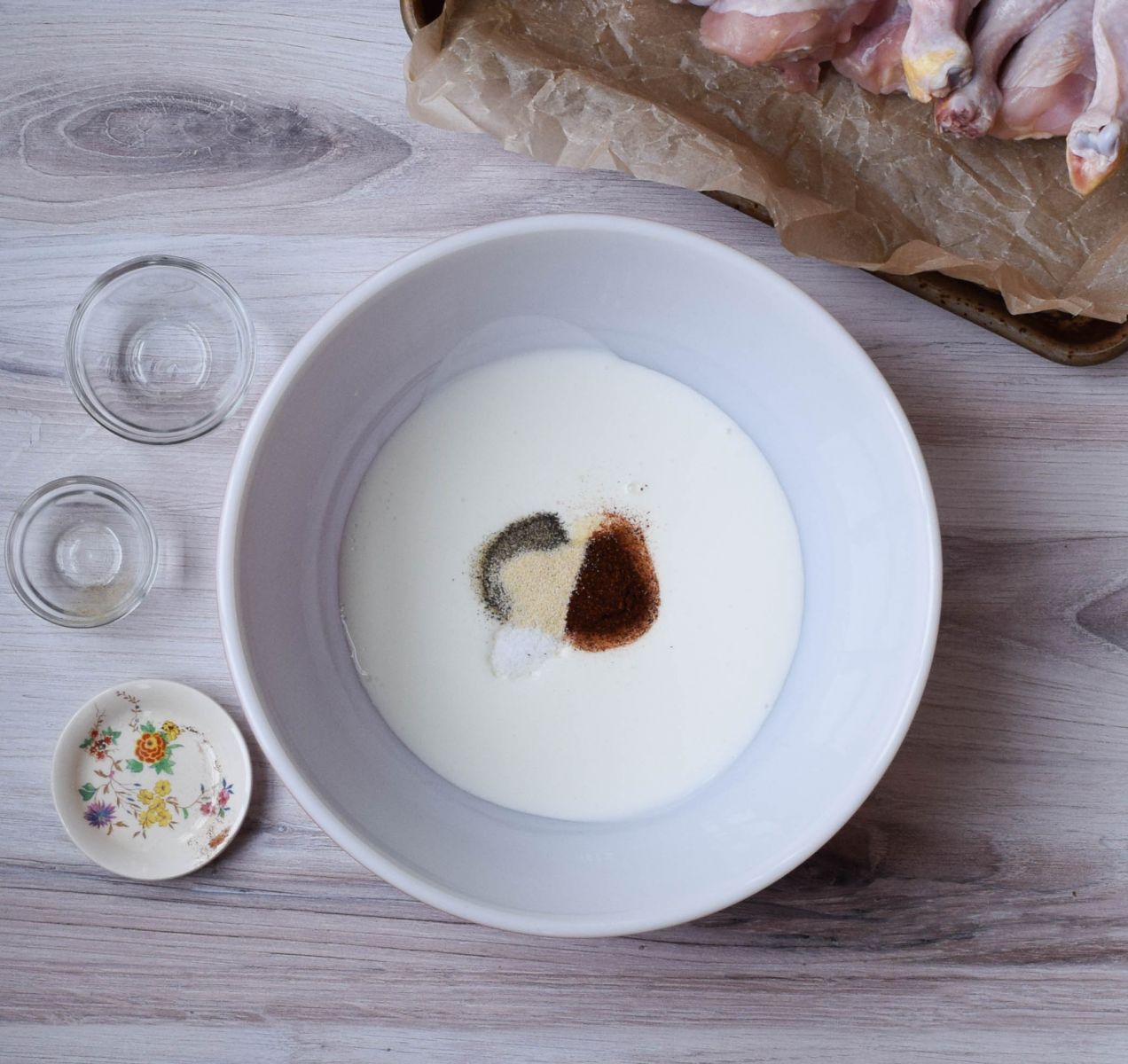 Directions: 
To make the marinade, whisk together the buttermilk and spices in a large bowl. Add the chicken legs and let marinate for 2 hours at room temperature or overnight in the refrigerator.
Once the chicken has marinated, make the batter by whisking together the flour, spices, and Bust Head English Style Ale in a separate large bowl. Set aside. 
In a large cast-iron skillet (mine was 12-inches), add enough oil so that it comes up the sides by one inch. Heat the oil over medium-high heat until it reaches 350°F. 
Remove the chicken from the buttermilk mixture, and pat dry with a paper towel to remove any excess marinade.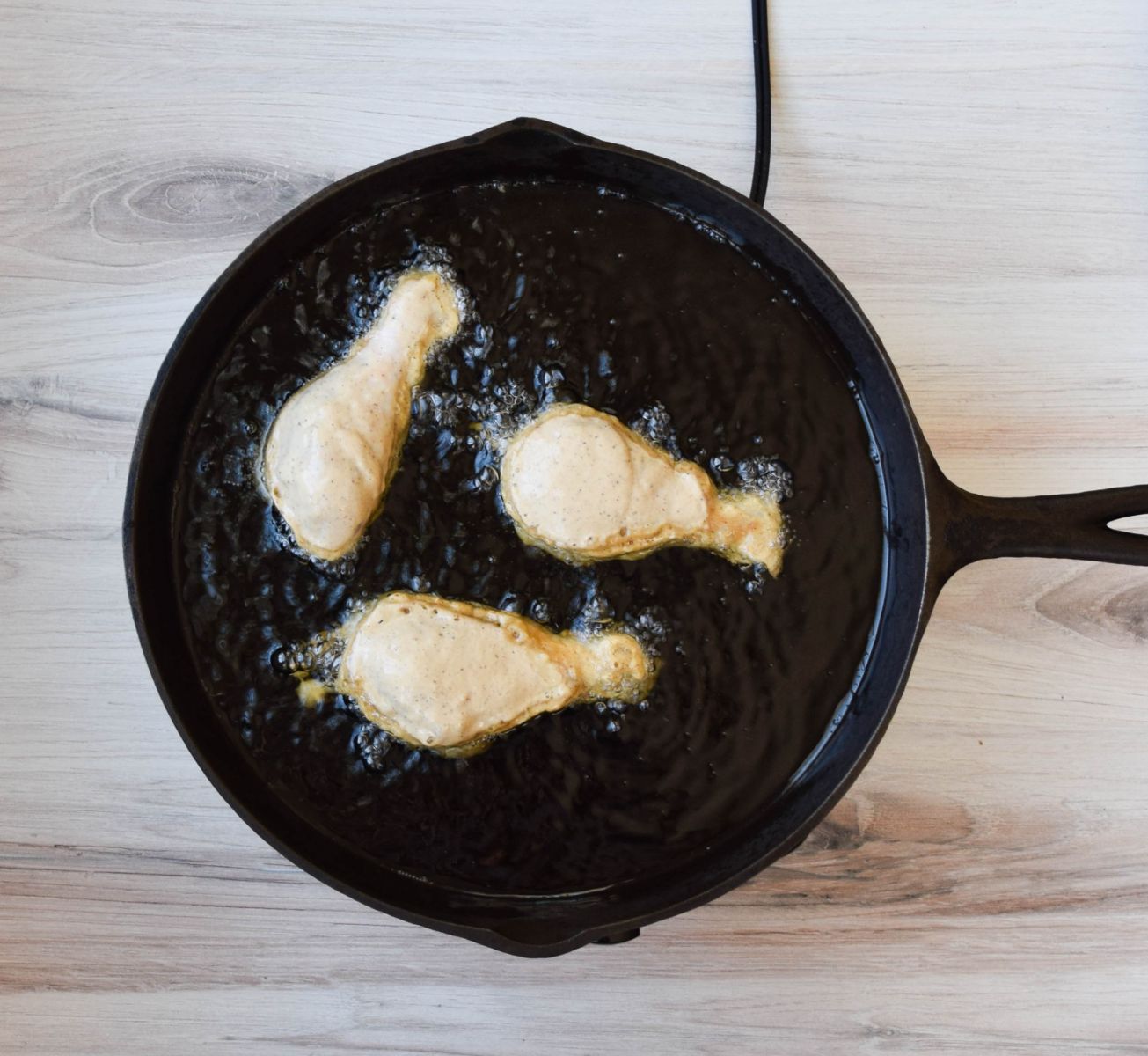 Working in batches of three or four, dip the chicken in the batter, coating it completely and then carefully transfer to the hot oil. Cook for 8 – 10 minutes on the first side then flip and cook for an additional 8 – 10 minutes on the second side until golden brown. The total cooking time will be about 20 minutes, and the chicken is done when it is golden, crispy, and the internal temperature is 165°F. Remove chicken from the oil and set on a cookie tray lined with paper towels to cool slightly and allow any excess oil to drain off. Sprinkle with salt when hot out of the oil.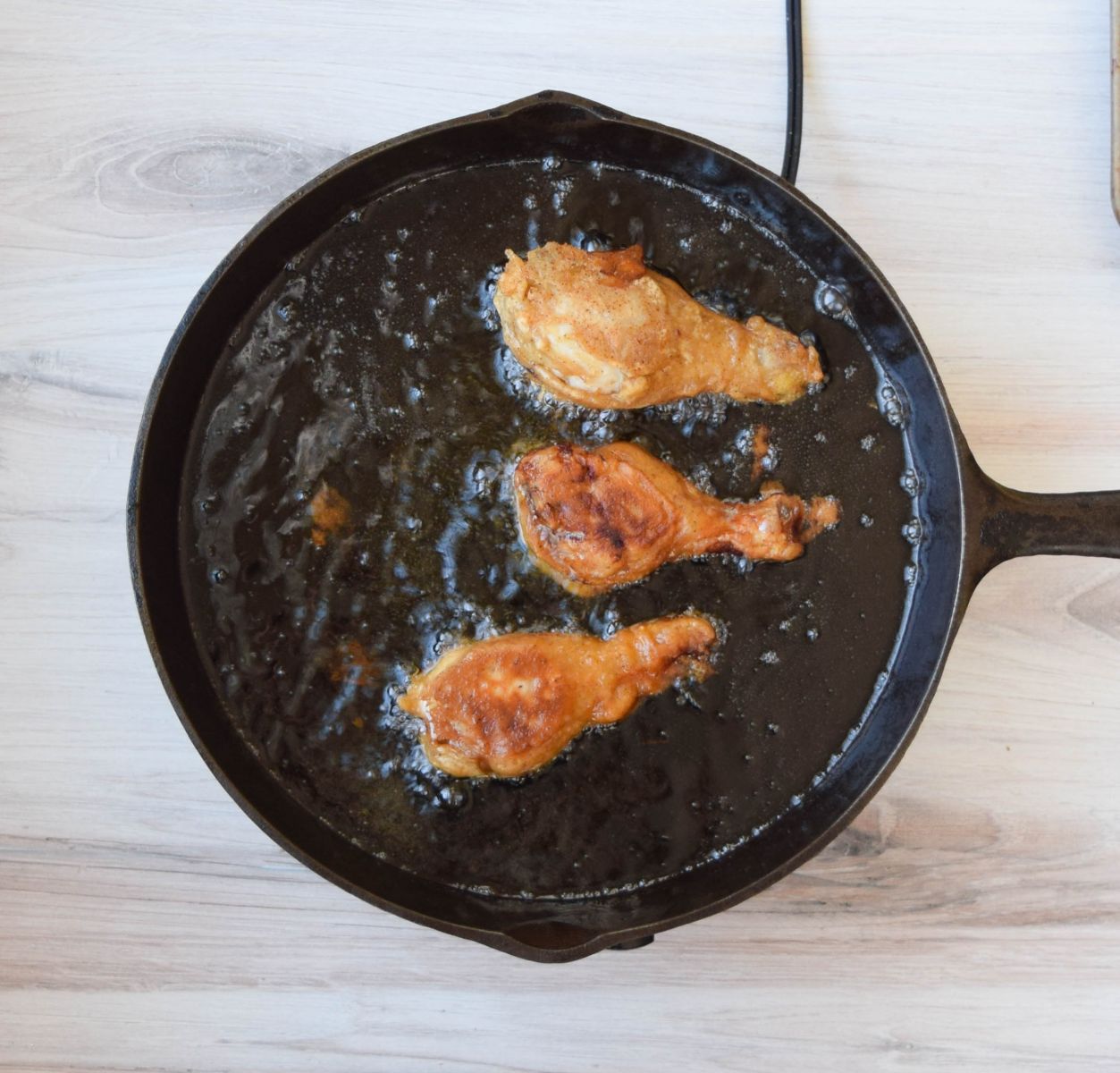 Repeat the process with the remaining chicken legs until they are all cooked. 
Enjoy immediately while hot and chase down with an ice-cold glass of Bust Head English Style Ale.