Friday, March 15, 2019
Corned Beef and Cabbage with Vixen Irish Style Red Ale
By: Kaitlin Hill 

Celebrate this St. Patrick's Day with my easy Corned Beef and Cabbage made with Vixen Irish Style Red Ale. This festive one-pot dish is a cinch to put together and can stay untouched, simmering away for hours, making the house smell amazing. The notes of caramel and roasted malt in Vixen, mesh beautifully with the hints of clove, ginger, and cinnamon in the pickling spice, taking this classic recipe up a notch. Serve this hearty dish family style and be sure to wash it down with a Vixen Irish Style Red Ale for a memorable St. Patrick's Day meal. 
Time: 3 hours 
Serves: 6 - 8 
Ingredients:
1, 4-pound corned beef brisket
1 1/2 cups of water
1, 12-ounce bottle of Vixen Irish Style Red Ale 
2 tablespoons of pickling spice 
1 head of fresh cabbage 
4-5 medium red potatoes 
4-5 large carrots 
1 medium yellow onion 
salt and pepper, to taste 
Parsley, for garnish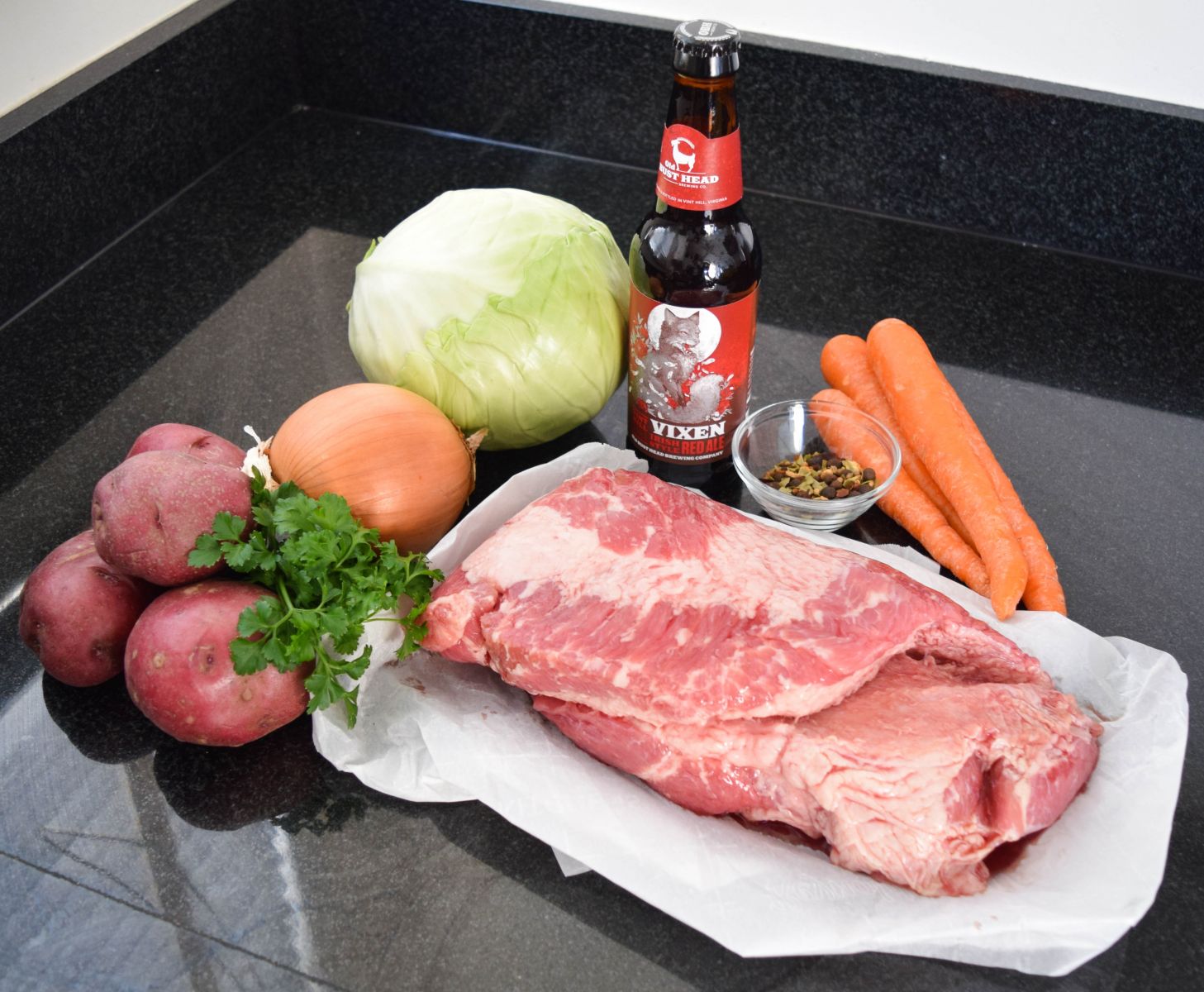 Directions: 
Measure out all of your ingredients.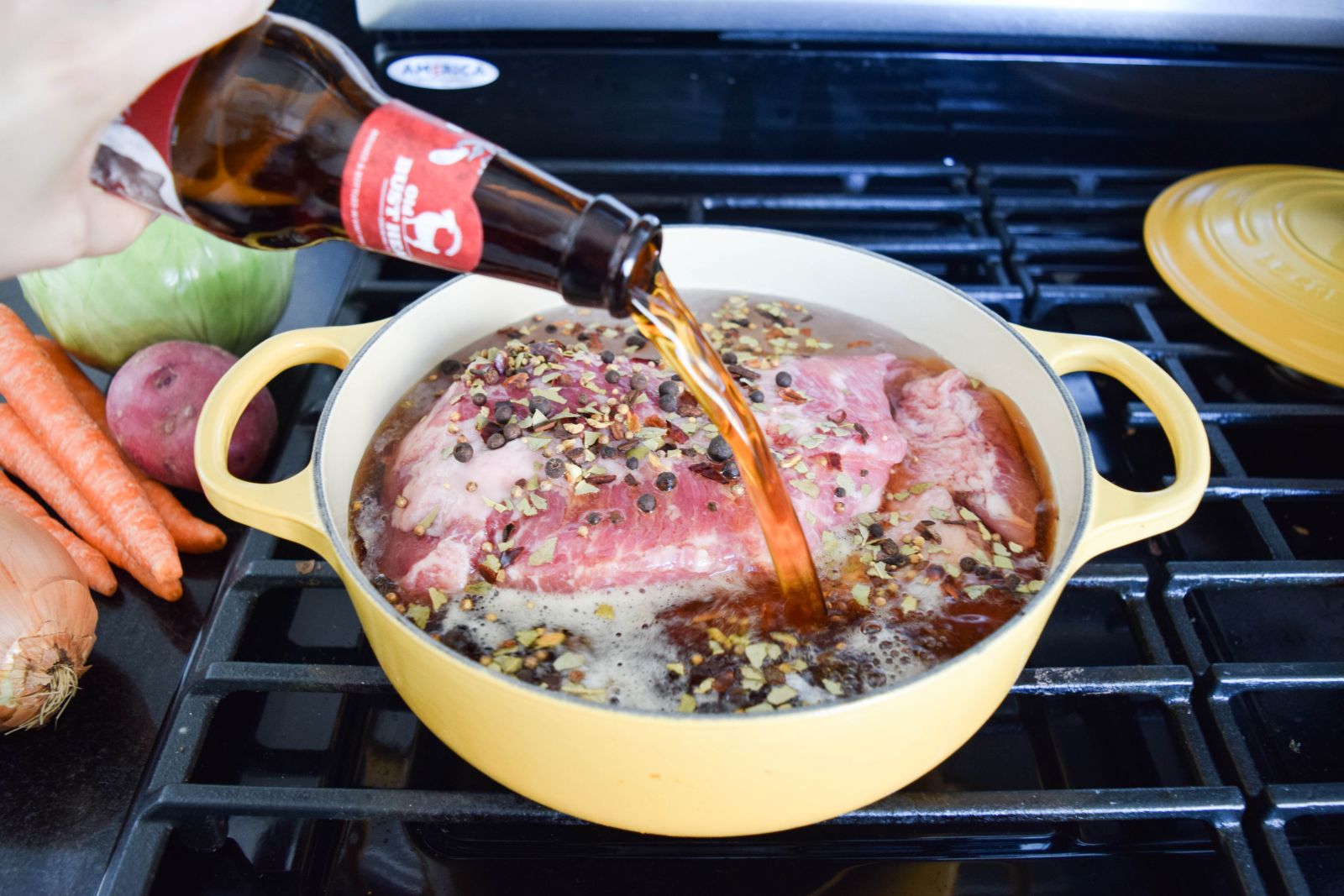 Place the corned beef brisket, water, pickling spices, and a generous pinch of salt and pepper in a large (4 quart or larger) dutch oven pot over medium-high heat. 
Pour the beer over the brisket. Bring to a boil and then reduce to a simmer. Cover the pot and simmer for 2 hours.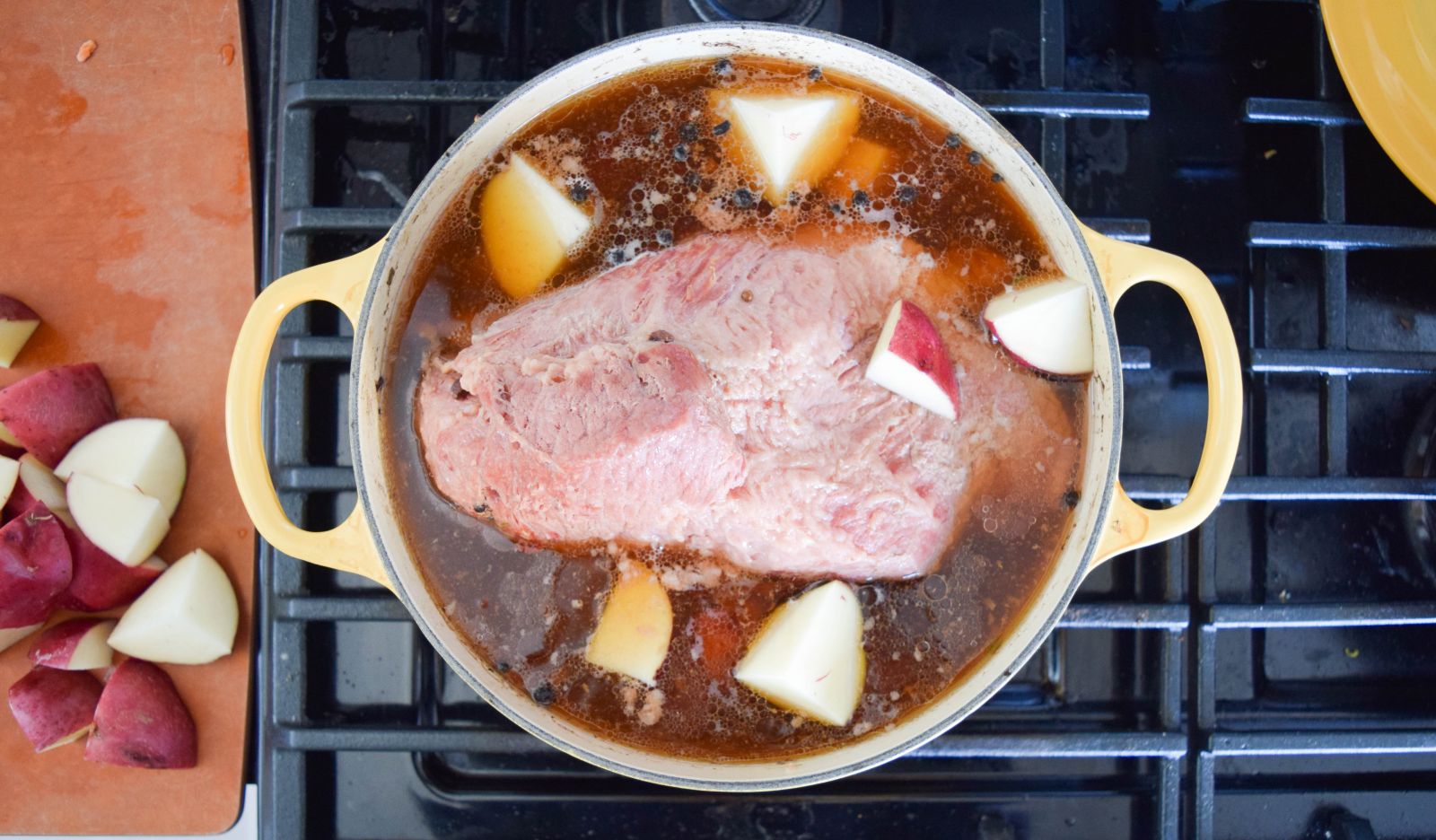 While the beef simmers, prepare your vegetables. Wash then cut the potatoes into large chunks. Keep them submerged in water until ready to use (this prevents them from turning brown). Wash and peel your carrots and cut on a bias into large chunks. Remove the outer leaves of the cabbage. Cut the cabbage in half and then each half into fourths vertically to create wedges. Peel the onion and cut it into large chunks, similar in size to the other vegetables. 
After 2 hours of simmering, add the potatoes and cook for 10 minutes.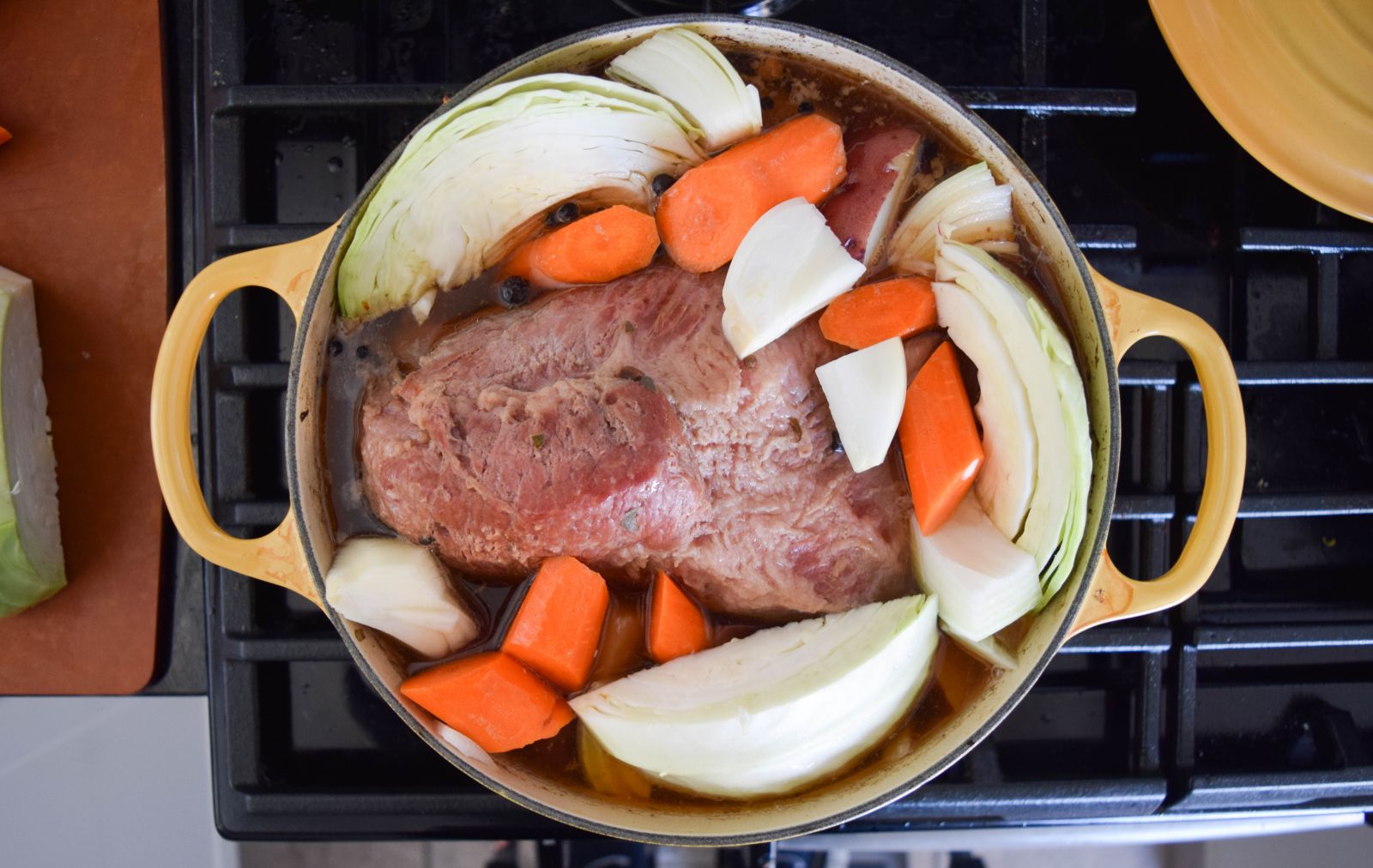 Next, add the carrots, onions, and cabbage and cook for 20 - 25 minutes until tender. Pierce the vegetables with a fork to check for doneness. If the fork punctures the vegetables without them falling apart, they are finished. Be careful not to overcook. Taste the broth for flavoring and add salt and pepper as needed.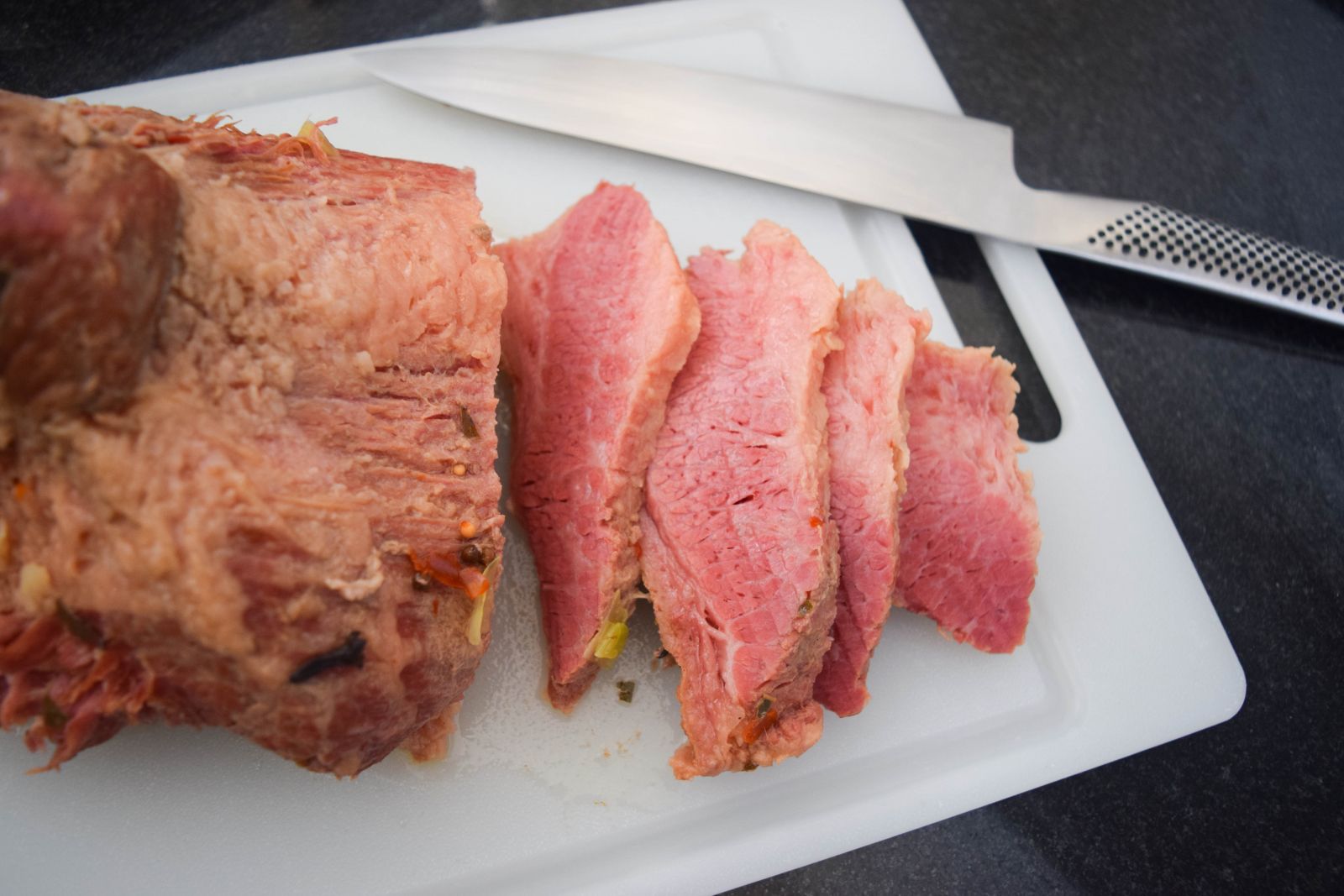 Remove the corned beef from the pot and transfer to a cutting board. Cut slices against the grain.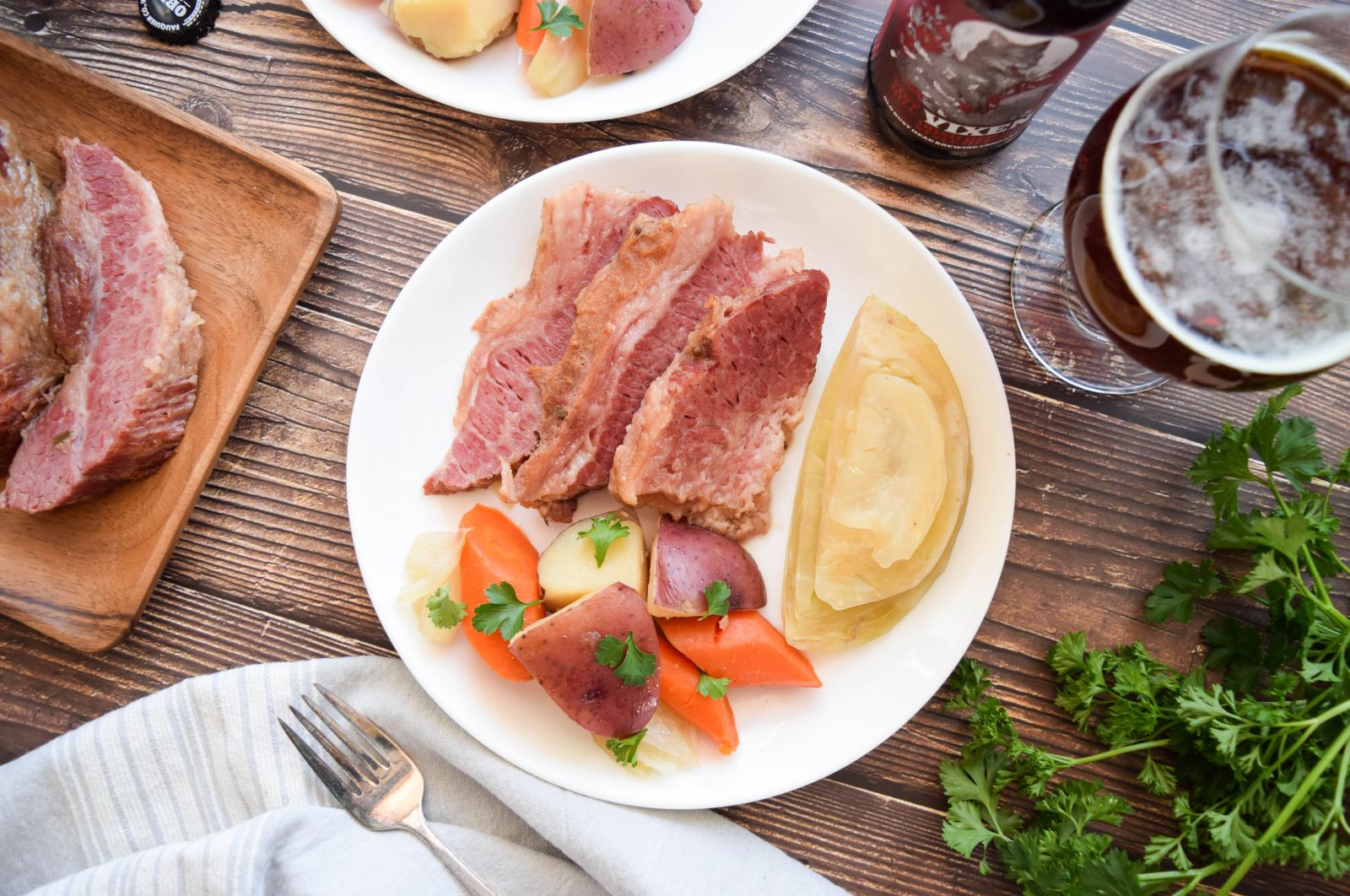 To serve, arrange slices on a plate with a spoonful of cooking liquid and a pile of veggies. 
Enjoy!