March 05, 2020
Dublin Coddle with Vixen Irish Style Red Ale
By Kaitlin Hill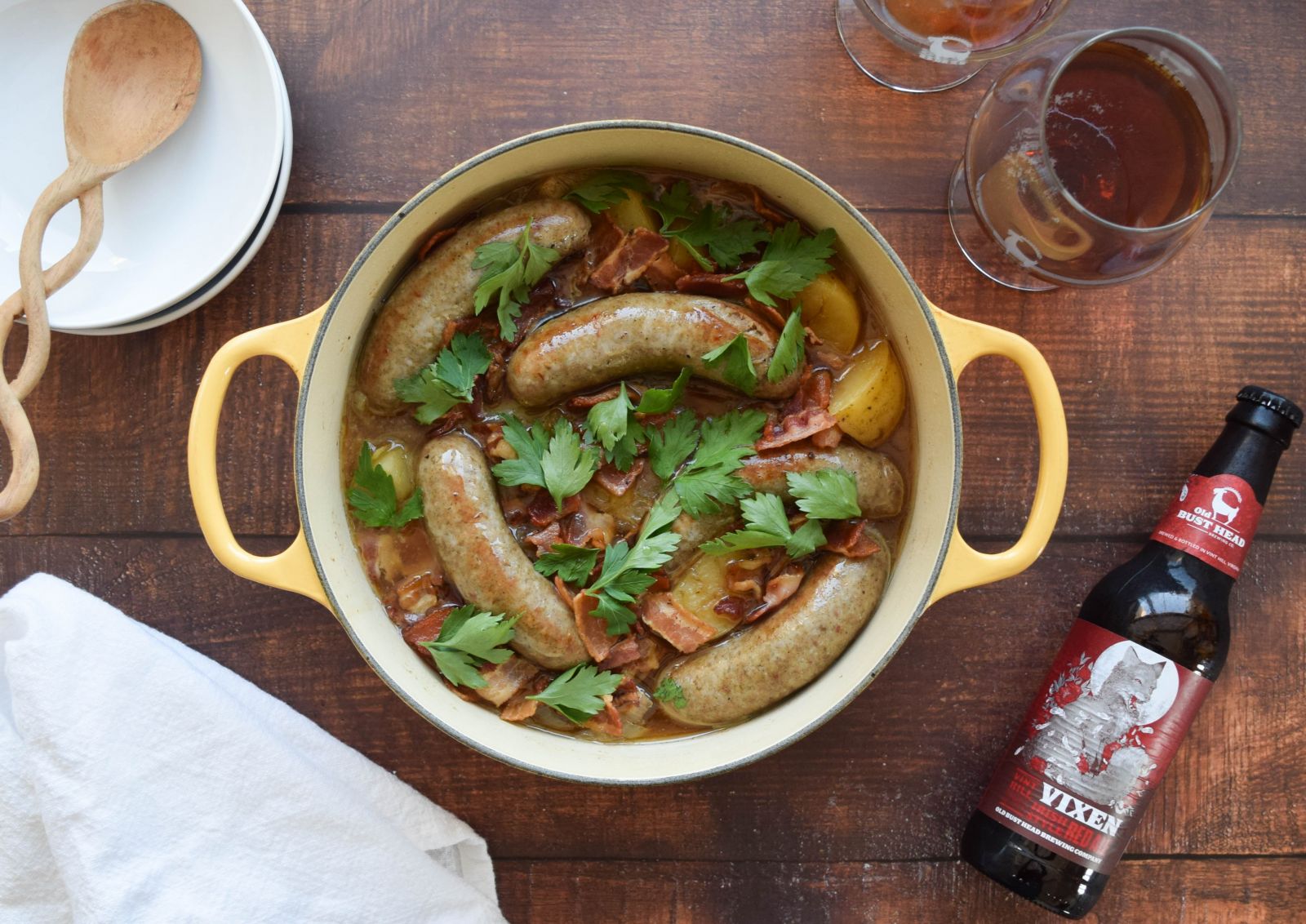 There are few things more Irish than pork, potatoes, and beer. All three come together in my Dublin Coddle made with Vixen Irish Style Red Ale. Recipes for Dublin Coddle date to the 1700s, and today it is still considered Ireland's ultimate comfort food. Loved for its effortless preparation and simple ingredients, this humble pot of potatoes, rashers (bacon), sausages, and broth is intended to be left simmering on the stove all night and enjoyed after a late night at the pub. My version is just as easy to make as the original with a boost of flavor from Vixen Irish Style Red Ale. The beer's hints of caramel and malt add a subtle sweetness and welcomed depth to this otherwise savory dish. Make a pot for you and yours this St. Patrick's Day and celebrate with an Irish tradition that is as old as it is delicious.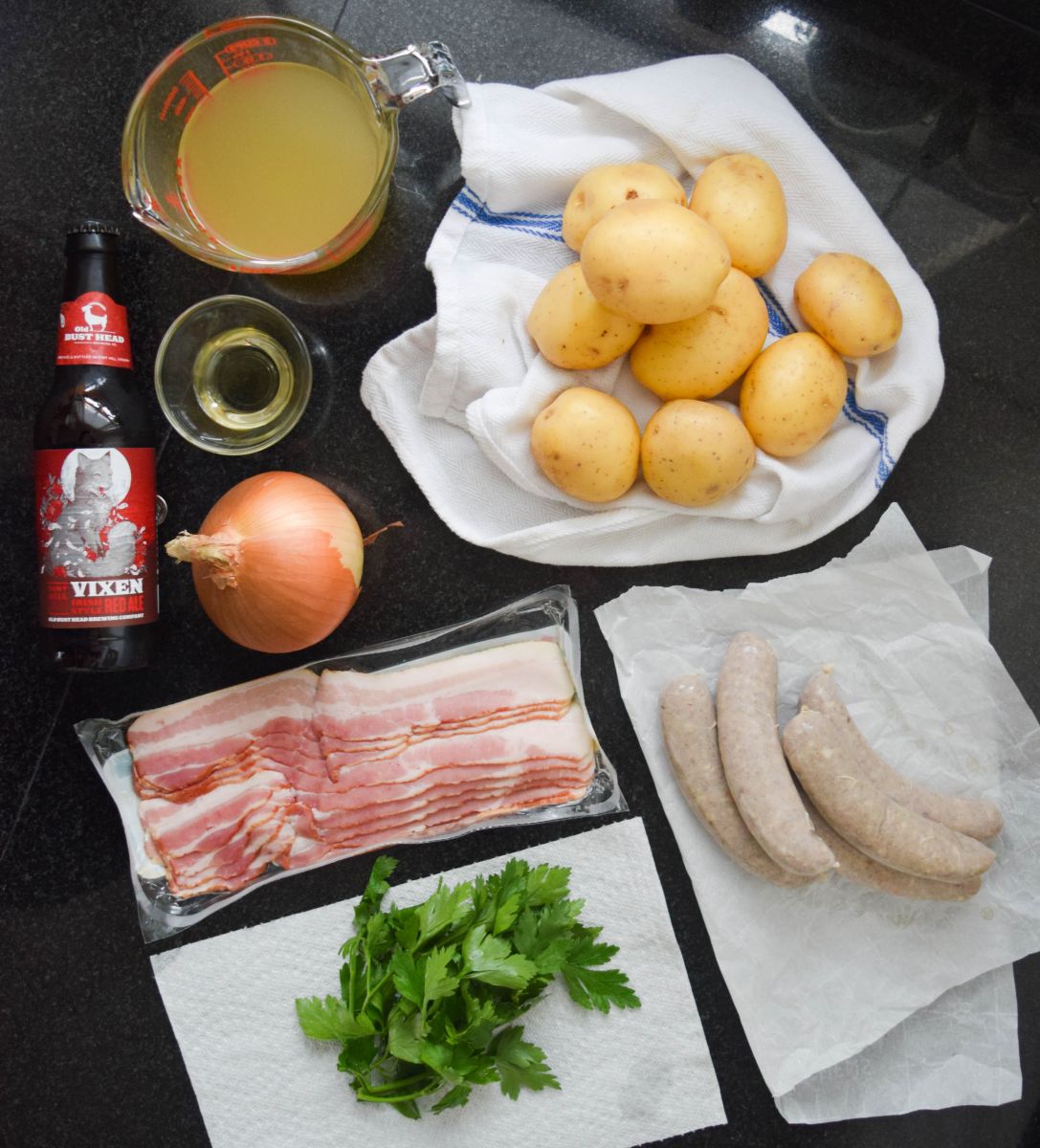 Serves 4 
Ingredients: 
 1 tablespoon of canola oil
 1 pound of pork sausage 
 1/2 pound of thick-cut bacon
 1 onion
 1 pound of potatoes (I used yellow creamers) 
 2 cups of chicken broth
 1 cup of Vixen Irish Style Red Ale
 salt and pepper, to taste 
 1 handful of parsley, for garnish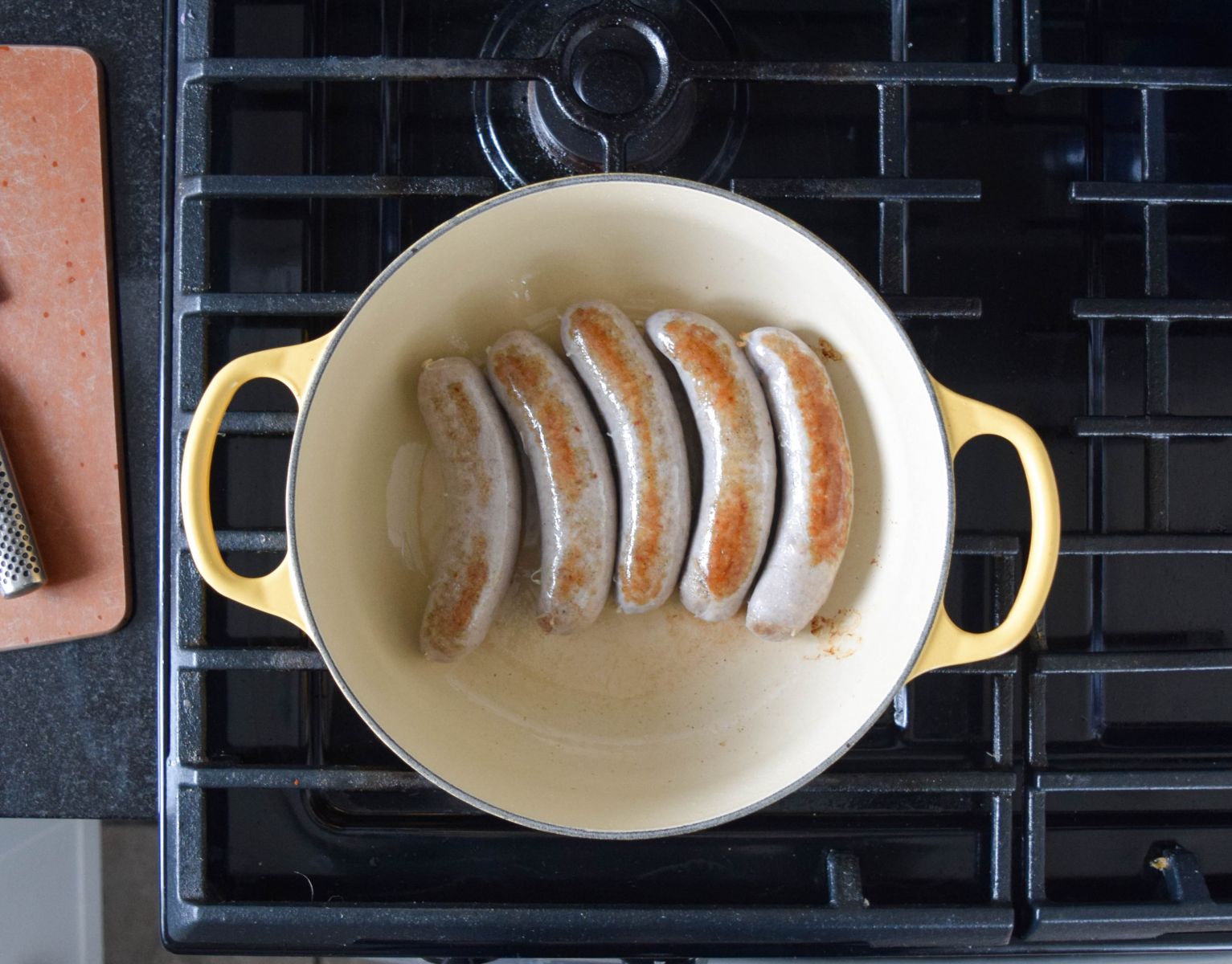 Directions: 
Heat the oil in a large Dutch oven or stockpot over medium heat. When the oil is hot, add the sausages and cook them for 3 - 4 minutes on each side until browned. Remove the sausages from the pan and transfer to a plate. 
Turn the heat to medium-low. Roughly chop the bacon and add it to the Dutch oven. Cook, stirring occasionally, until cooked browned. This will take about 8 minutes.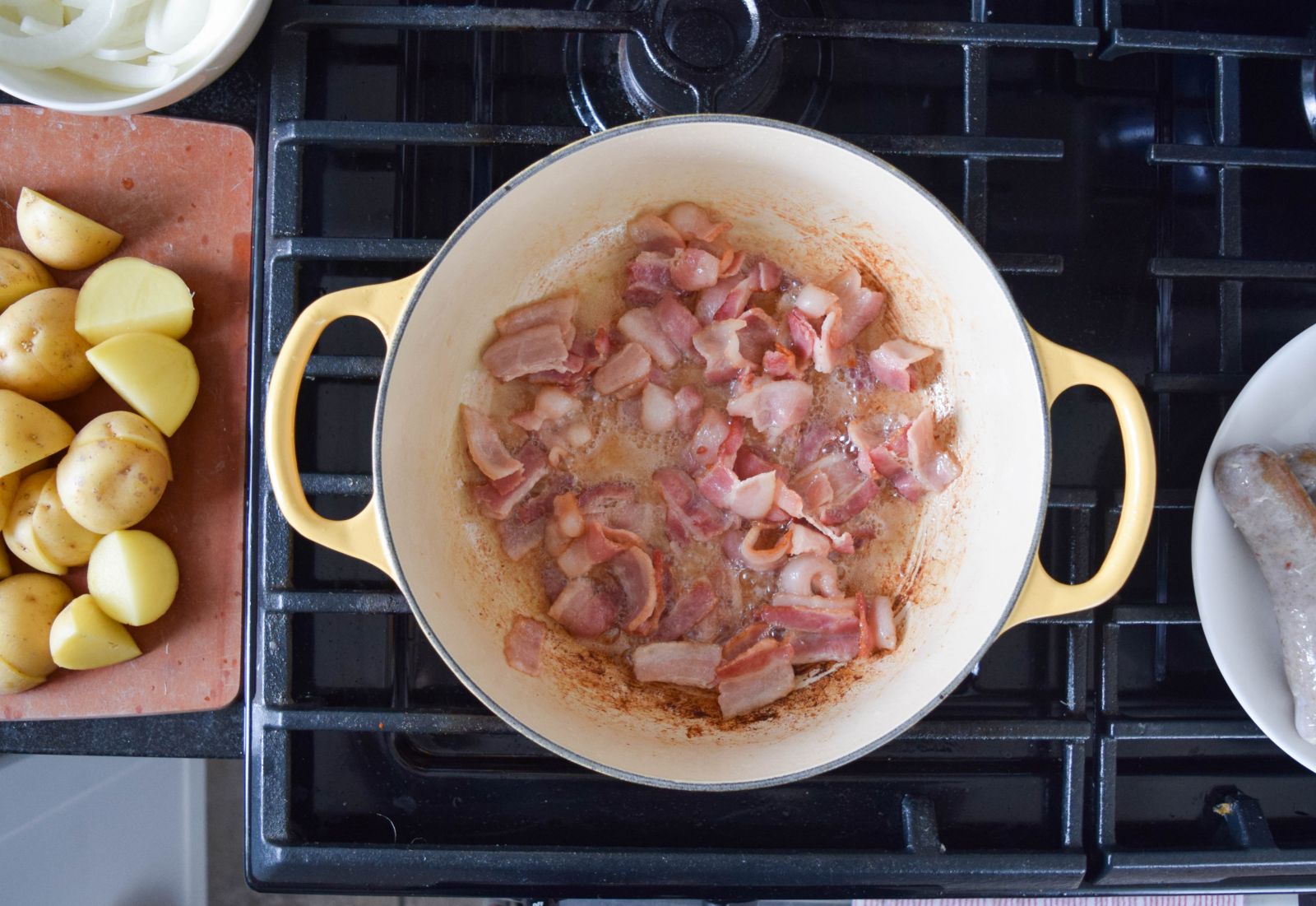 While the bacon is browning, prepare the onion and potatoes. Slice the onion into half-moons that are about a quarter of an inch in thickness. Set aside. Rinse and dry the potatoes. Cut them into quarters. Set aside. 
When the bacon has browned, remove it from the pan with a slotted spoon and transfer to a bowl to reserve. 
Carefully, pour out most of the rendered bacon fat, leaving about 2 tablespoons in the Dutch oven.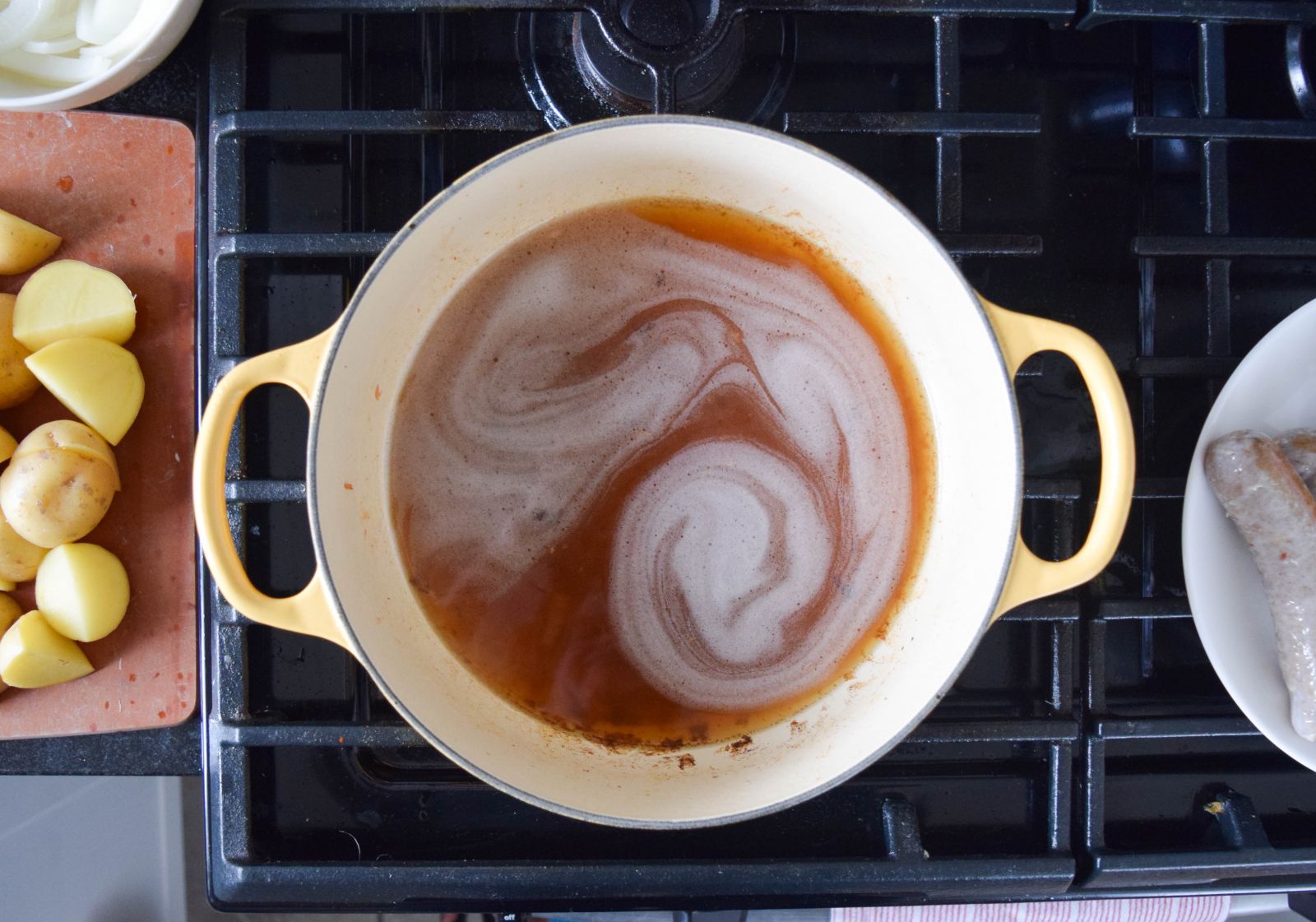 Return the pot to the stove over a low flame. Carefully pour in the chicken broth and beer. It will bubble up. Using a spatula or wooden spoon, stir the broth and beer together and scrape up any browned bits from the bottom of the pot. 
Add the onions, potatoes, sausage, and bacon back to the pot and cover. Season with salt and pepper. Cook for 25 - 30 minutes over medium-low heat until the onions are translucent and the potatoes are fork-tender.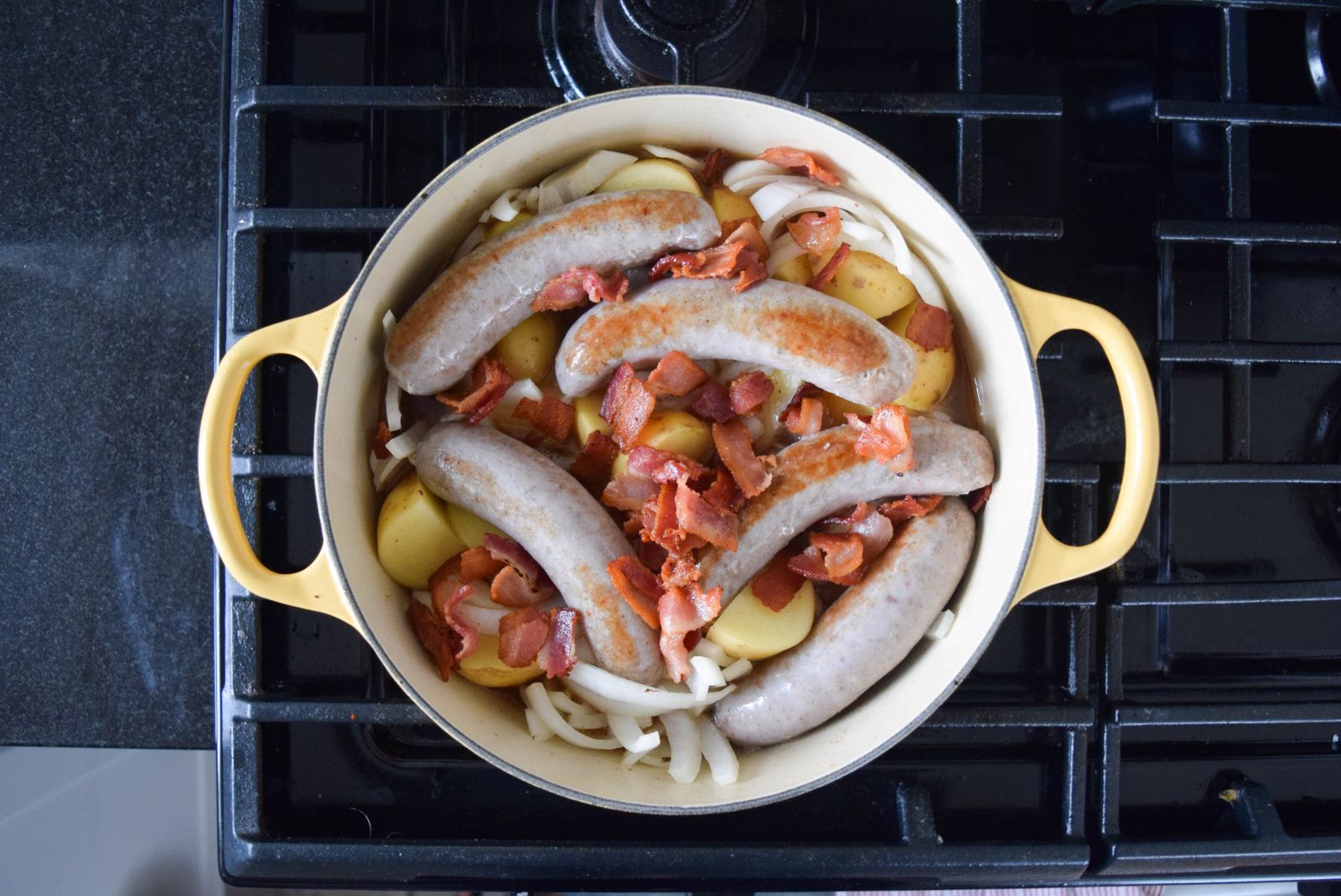 Check the seasoning and add more salt and pepper if desired. 
Garnish with parsley and serve immediately.