Tuesday, March 30, 2021
Hot Honey and Goldvein Hefeweizen Glazed Chicken
By Kaitlin Hill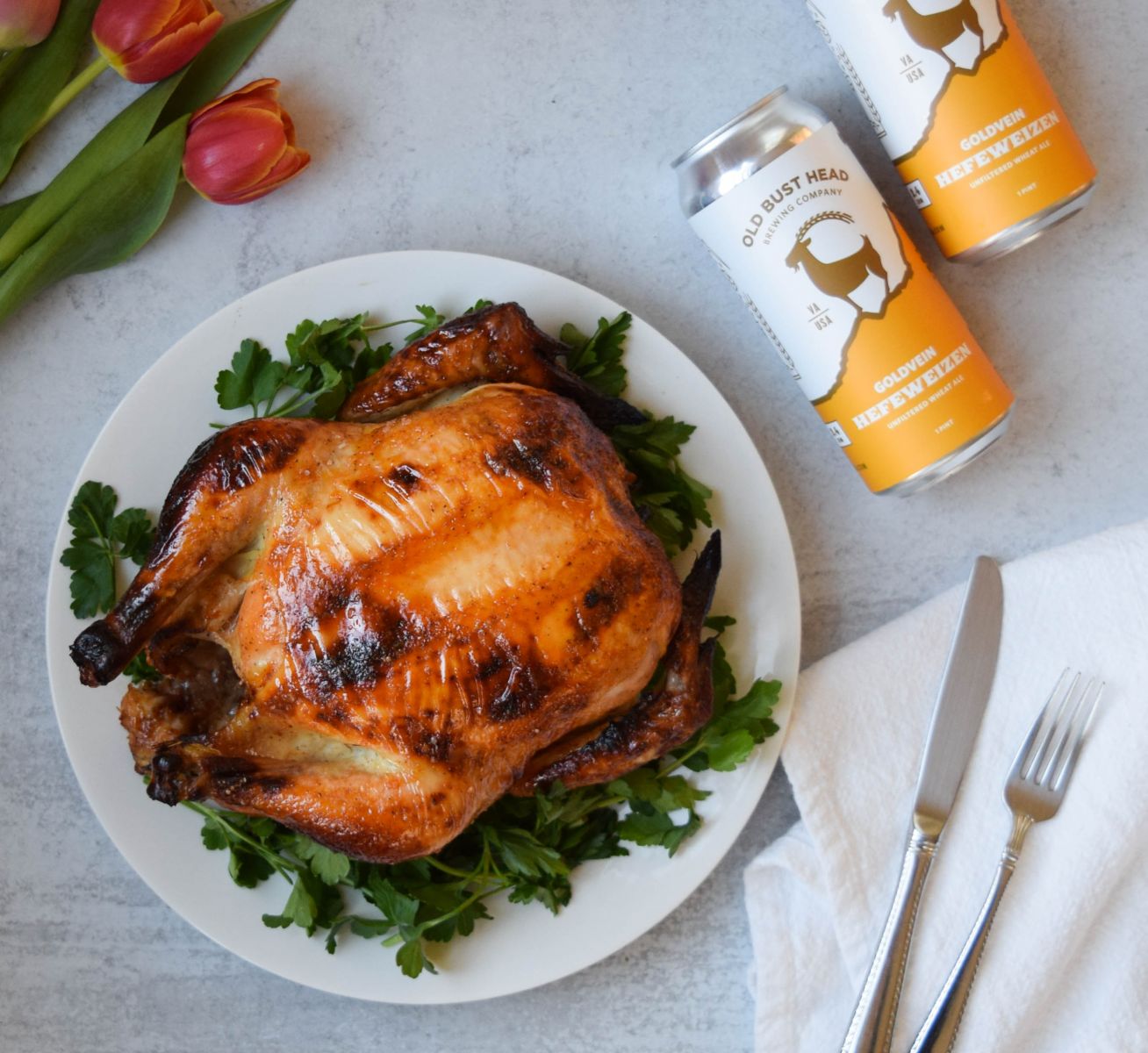 If you're looking for a center-piece roast chicken, you've got it. My Hot Honey and Goldvein Hefeweizen Glazed Chicken is moist, sticky, spicy, and sweet. The Goldvein Hefeweizen adds a subtle fruitiness and malt flavor, while balancing the fiery sriracha and floral honey. I marinade the chicken in the beer-based sauce before roasting and give an extra punch of flavor by slathering on more sauce in 20-minute increments. The result is an extremely flavorful, crispy-skinned, fall-off-the-bone moist chicken that is sure to please a crowd. 
Ingredients: 
1 whole chicken (mine was 5 pounds) 
1 pint of Goldvein Hefeweizen
4 tablespoons of honey 
1 – 2 tablespoons of sriracha (depending on how spicy you like it) 
1 teaspoon of cornstarch 
4 cloves of garlic 
Salt and pepper, to taste 
Parsley, for garnish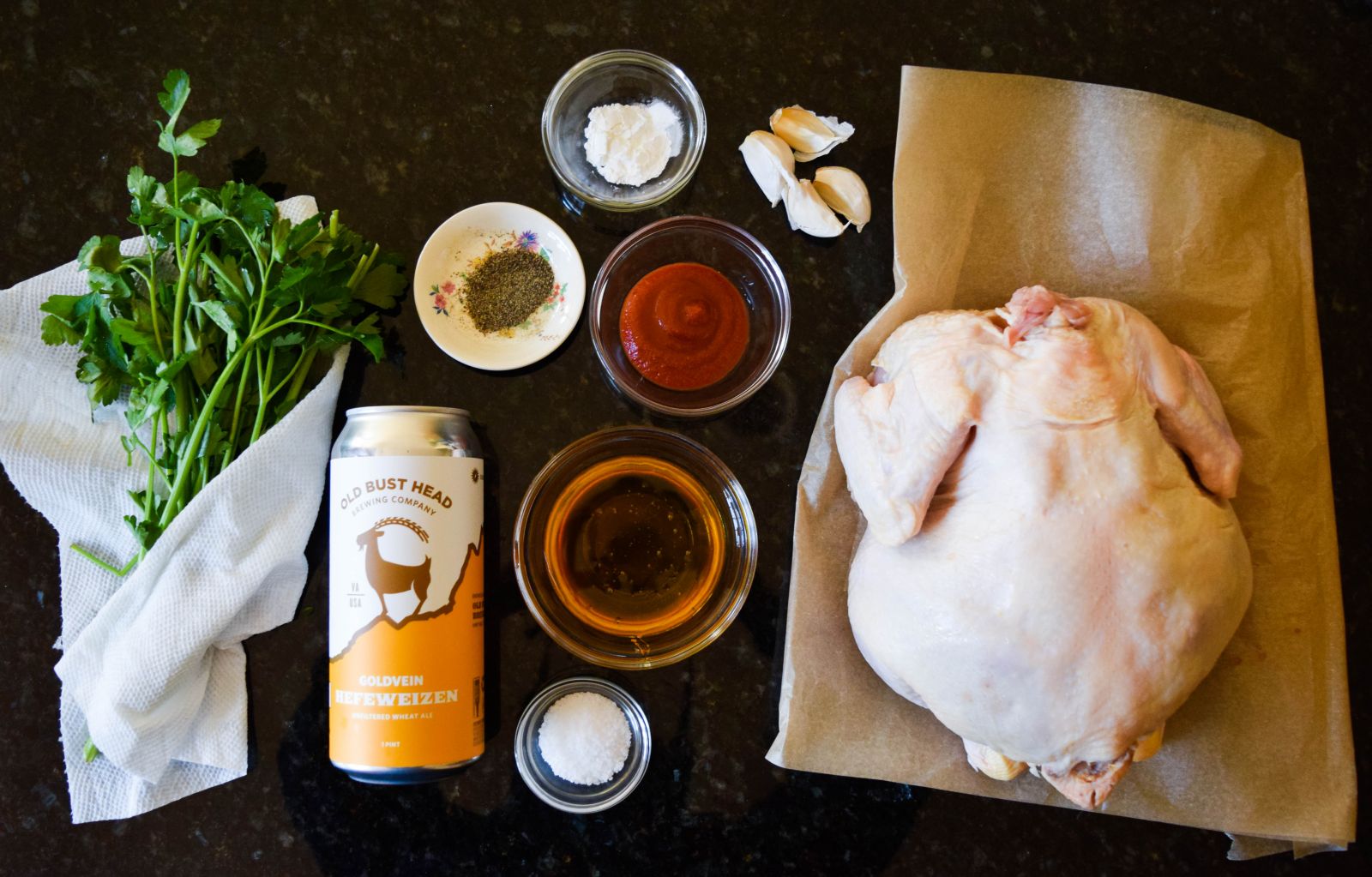 Preheat the oven to 375°F and set a roasting rack inside a casserole dish.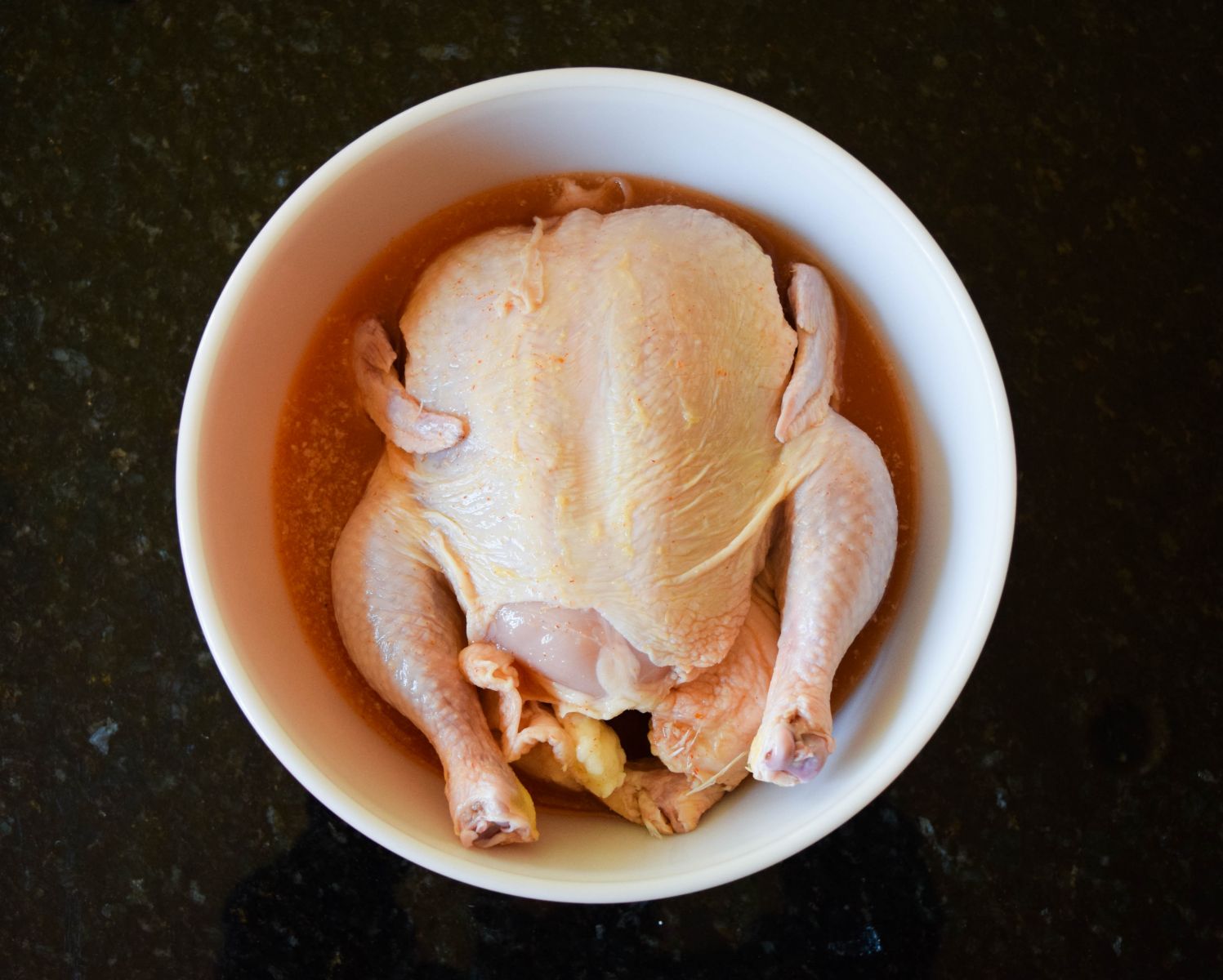 Add the Goldvein Hefeweizen, honey, sriracha, cornstarch and garlic to a large mixing jug and whisk to combine. Place the chicken in a large bowl and cover with 1 ½ cups of the marinade, reserving ½ a cup. Cover the chicken and transfer to the refrigerator to marinate for at least 1 hour, up to 6 hours. Halfway through the marinading time, flip the chicken over to submerge the other side.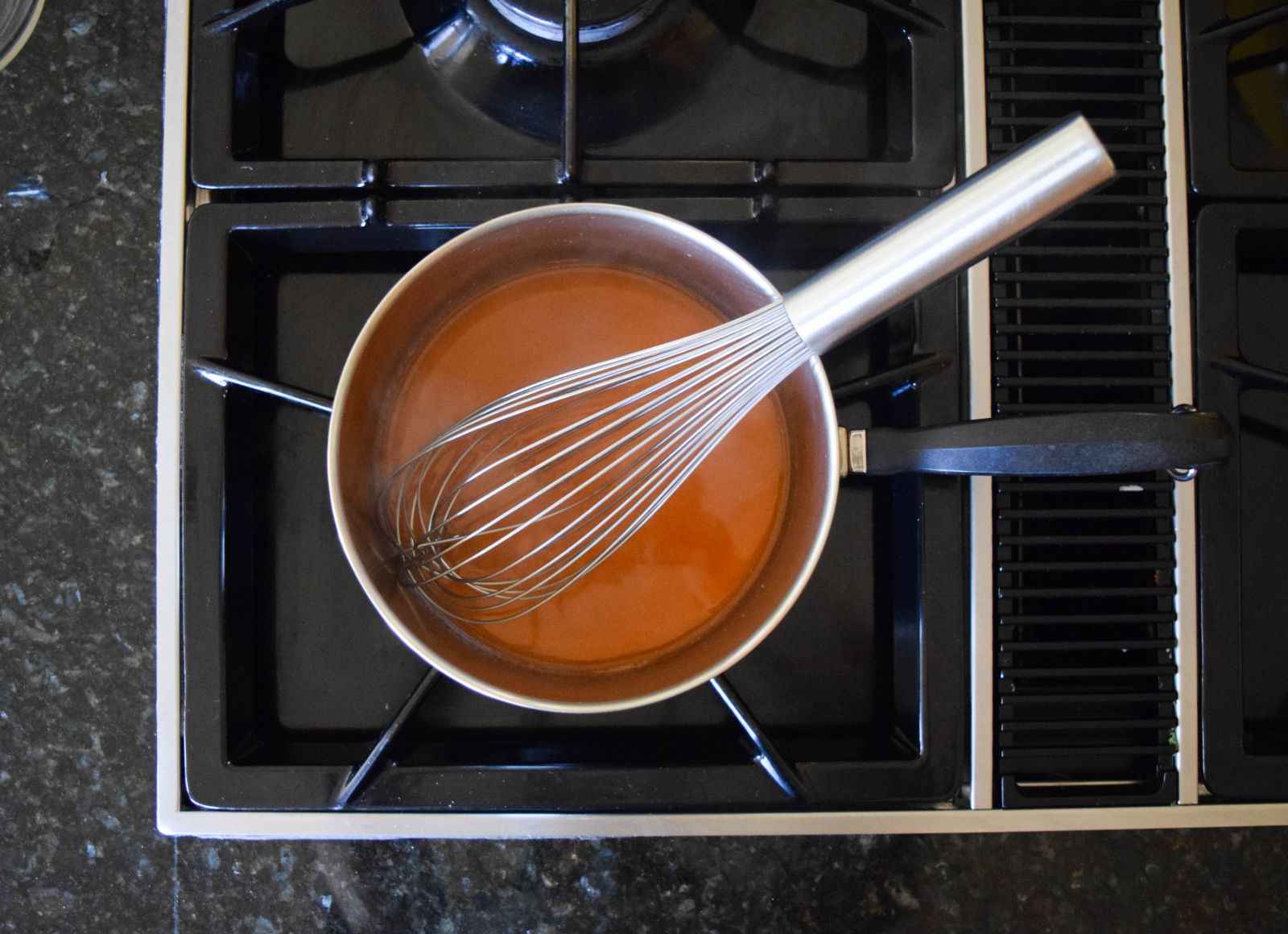 While the chicken marinates, place the remaining ½ cup of marinade in a small saucepan. Cook over low heat, whisking occasionally, for about 10 minutes until the sauce has reduced by half and has a syrupy consistency. Remove from heat and set aside.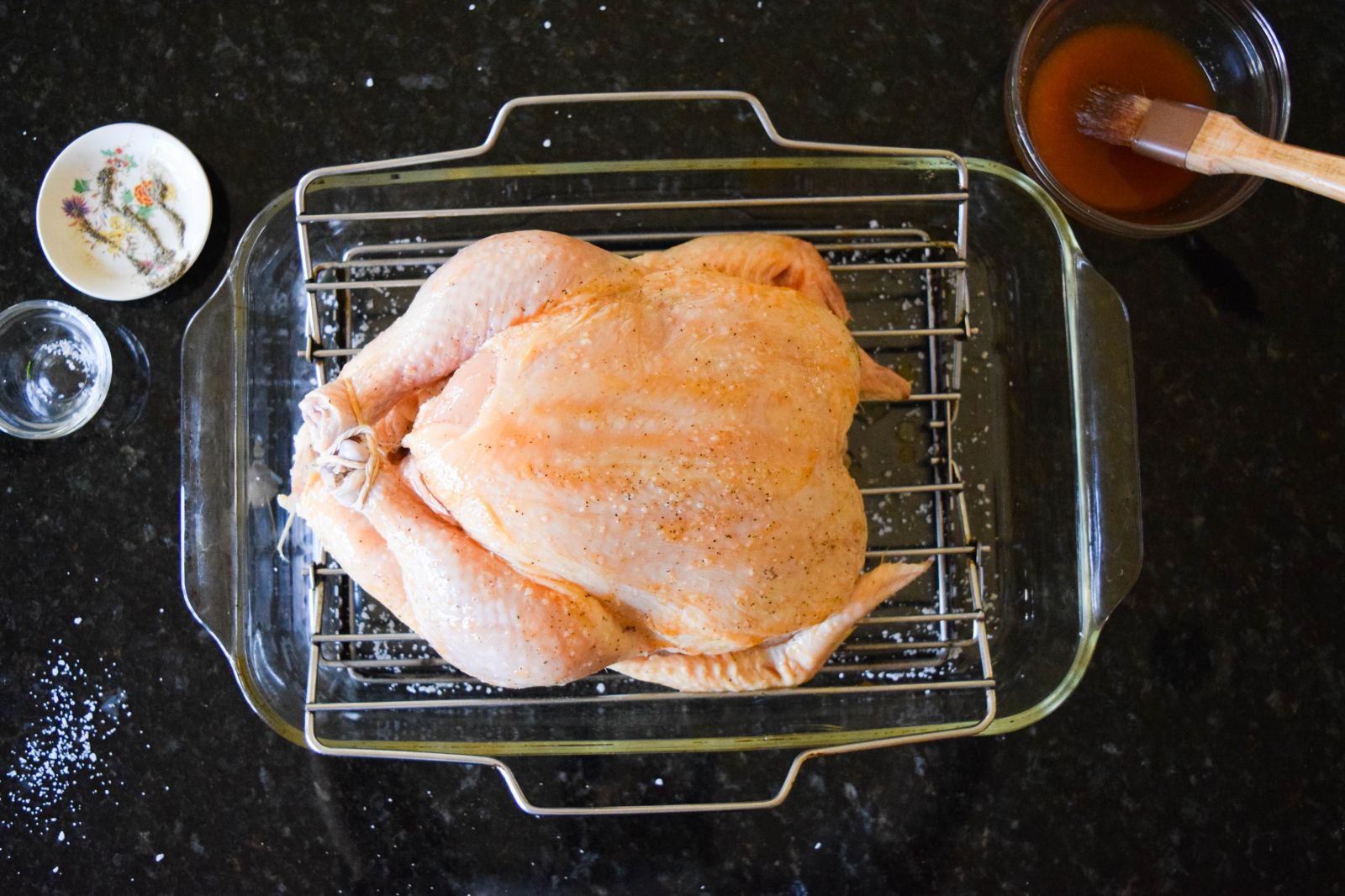 After an hour, remove the chicken from the marinade and transfer to a roasting rack set over a casserole dish. Pat the skin dry and season all over with, and in the cavity, with salt and pepper. Brush the chicken with the reduced marinade.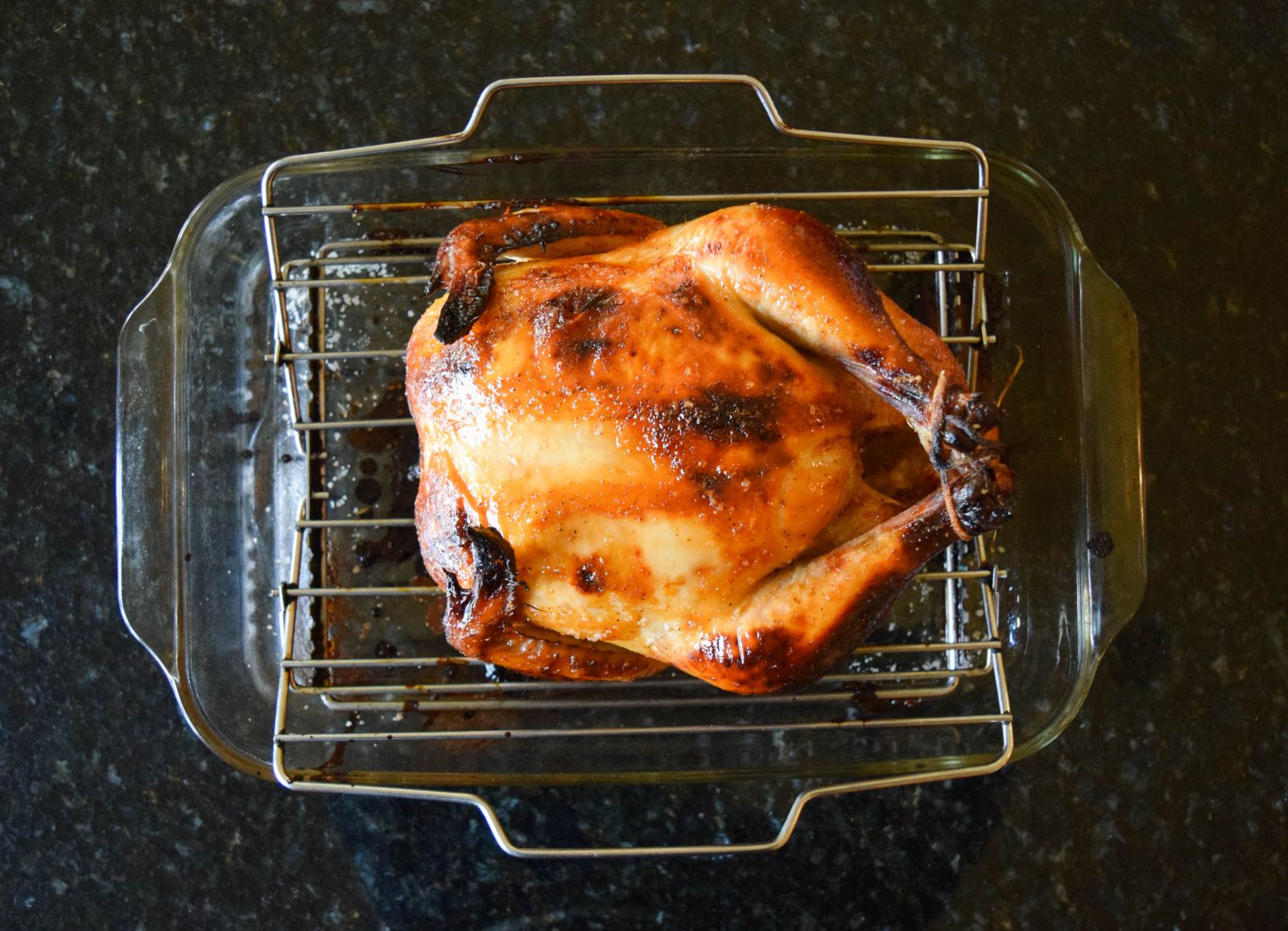 Bake the chicken for 20 minutes, then remove from the oven and brush with more marinade. Repeat this process two more times until the chicken has baked for 60 minutes. If the chicken starts to brown too quickly, you can cover it with tin foil after glazing it. 
The chicken is ready when the skin is mahogany in color, and it has reached an internal temperature of 165°F. Cover the chicken with foil (or keep it covered) and let it rest for 10 minutes before serving. Garnish with parsley and enjoy!