Old Bust Head Fresh From the Field: Wild Hope Screening w/ Speaker Callie Braoddus @ 7:00PM
|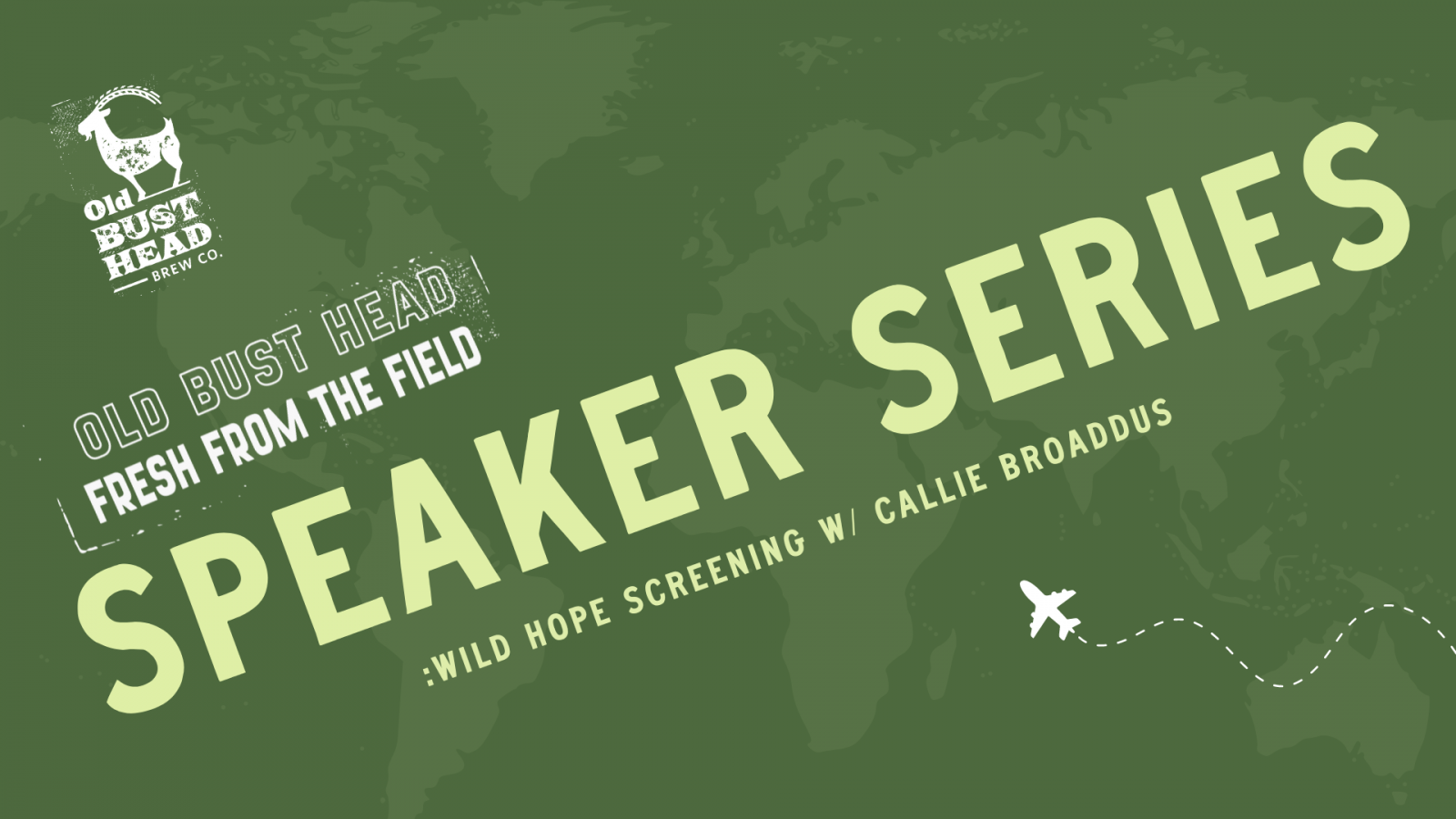 Join us in the production room (where all the beer is made) for an evening of craft beer and conservation in the first of our speaker series we're calling OBH Fresh from the Field! 
We'll show an advanced screening of "Wild Hope: Does Nature Have Rights?" followed by a live Q&A session with Callie Broaddus, wildlife photographer and founder of Reserva: The Youth Land Trust, whose work is featured in the film. Callie and members of Reserva's youth team will be here to answer questions about their expeditions exploring the stunning biodiversity of Ecuador's cloud forests and discovering new species in the world's first entirely youth-funded nature reserve. A gallery of Callie's photographs from the field will be on display at the event.
**20% of proceeds from drink sales from tonight's event will go to Reserva: Youth Land Trust**
-----
Wild Hope: Does Nature Have Rights?
Ecuador is one of the most biodiverse places on the planet, yet its wild spaces are also among the most threatened. In 2008, the country became the first nation in the world to enshrine the "rights of nature" in its constitution—granting wild species their own legal rights to exist. Now, conservationists are putting this powerful political tool to the test, invoking those constitutional rights of nature to save areas of unique biodiversity.
Wild Hope is a new series highlighting the intrepid change-makers who are restoring our wild places and sparking new hope for the future of our planet. It is an HHMI Tangled Bank Studios and Part2 Pictures production in co-production with Wild Elements. Get updates on the series by visiting wildhope.tv and following @wildhope on Instagram.
Callie Broaddus
Callie is the founder & executive director of Reserva: The Youth Land Trust and was named one of "fifty people changing the world" by The Explorers Club in 2021. She is a conservationist and wildlife photographer focused on engaging youth in the protection of international biodiversity hotspots. On the ground, she has organized and co-led numerous research expeditions into the Ecuadorian Tropical Andes, which have resulted in the discoveries of new species to science and new threats to this irreplaceable ecosystem. She serves on the Rainforest Trust Council, Cool Earth Advisory Board, Exploring By the Seat of Your Pants Board of Directors, and Bull Run Mountains Conservancy Board of Directors. Callie Graduated from UVA with a BS in Architecture in 2012 and was a senior designer at National Geographic Kids before starting Reserva in 2019.
Reserva: Youth Land Trust 
Reserva is a youth-led nonprofit whose mission is to empower young people to make a measurable difference for threatened species and habitats through conservation, education, and storytelling. By creating a network of youth-led reserve projects around the world, they are working to create a world where young people inherit and help maintain a biodiverse planet. Reserva was established in 2019 by Callie Broaddus and Bella Lack and is now driven by 100 youth from 30 countries. Learn more about their work at reservaylt.org and following @reservaylt on Instagram.