Oak Aged Wild Strawberry Bright Prospect
Tasting Notes:
Bright Prospect is an easy-to-drink beer with a bit more oomph at a hearty 9.8% ABV. After being aged in oak barrels with the addition of strawberries, this version of Bright Prospect has a sweet candied fruit aroma. A fruit forward taste contributes to the drinkability of this brew, making it a great toast to the end of summer!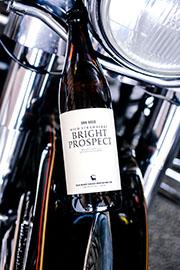 Ingredients:
Fauquier County Well Water, Pilsen Malt, 2 Row Brewer's Malt, Munich Malt, Victory Malt, Belgian Candi Syrup, Sorache Ace Hops, Strawberries, Belgian Yeast.
Statistics:
ABV - 10%
IBU - 10
SRM - 7
OG - 19.8 °P
FG - 2 °P