February 21, 2020
Chili and Warp Factor DIPA Marinated Chicken Thighs
By Kaitlin Hill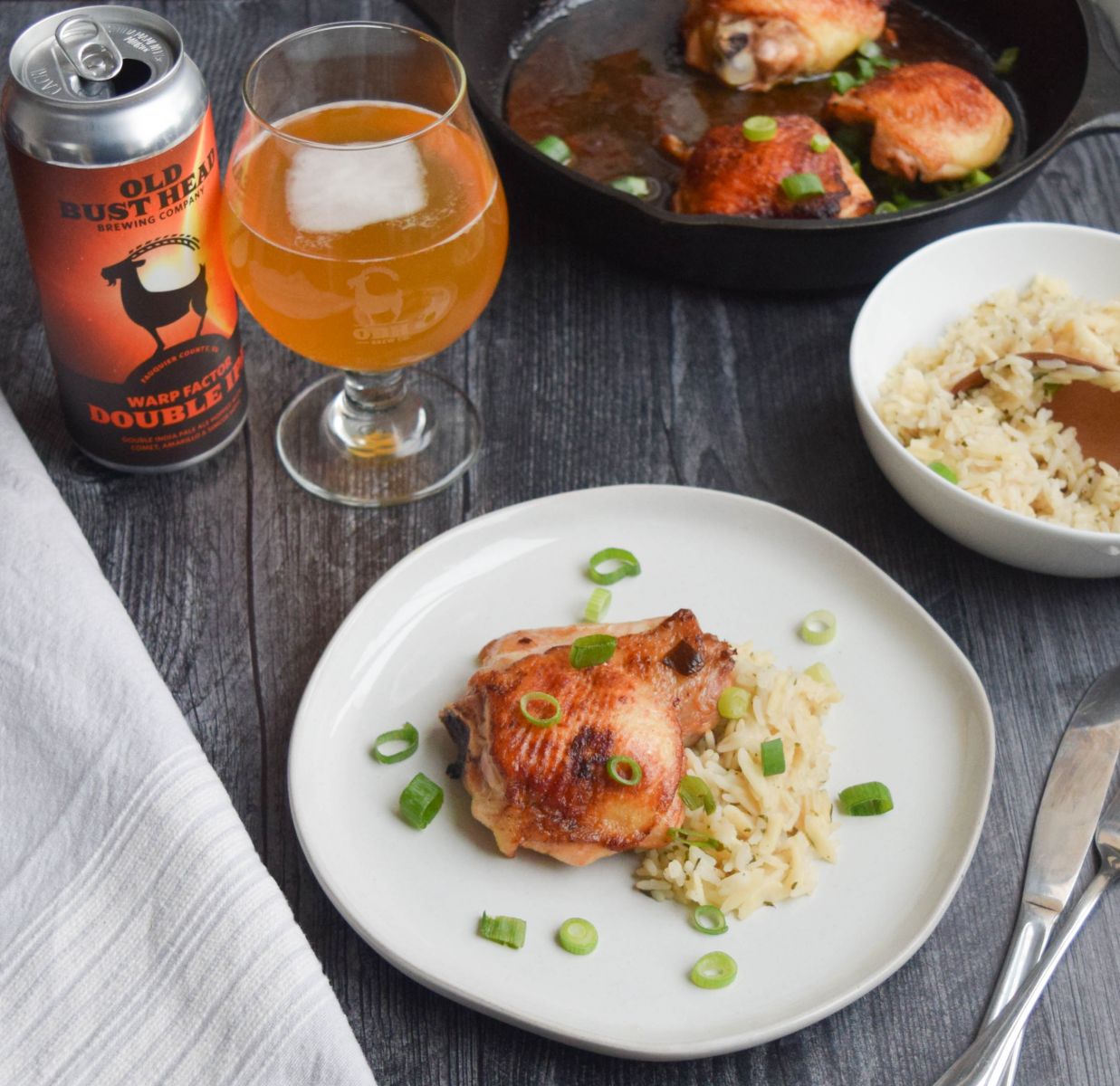 Basic sautéed chicken thighs are given a boost of flavor when soaked in this Warp Factor DIPA marinade. The beer's citrus notes shine, along with spicy chili and a touch of sweet from honey. The beer-based marinade also insures the chicken stays juicy when cooked stovetop and finished in the oven. I recommend using a cast-iron skillet to get that really crisp, mahogany brown skin for a texture contrast that takes this dish over the top. More than just for the marinade, you can also pair this dish with an ice-cold glass of Warp Factor DIPA. This sweet and salty chicken tastes amazing when washed down with this extremely drinkable brew. 
Ingredients: 
1 pint of Warp Factor DIPA 
3 scallions, thinly sliced, plus more for garnish 
2 tablespoons of chili garlic sauce 
1 tablespoon of honey 
1 teaspoon of ground coriander 
1 teaspoon of salt, 
¼ cup of soy sauce
juice of 1 lime 
¼ cup of canola oil, more for sautéing 
4 – 6 chicken thighs, bone-in and skin-on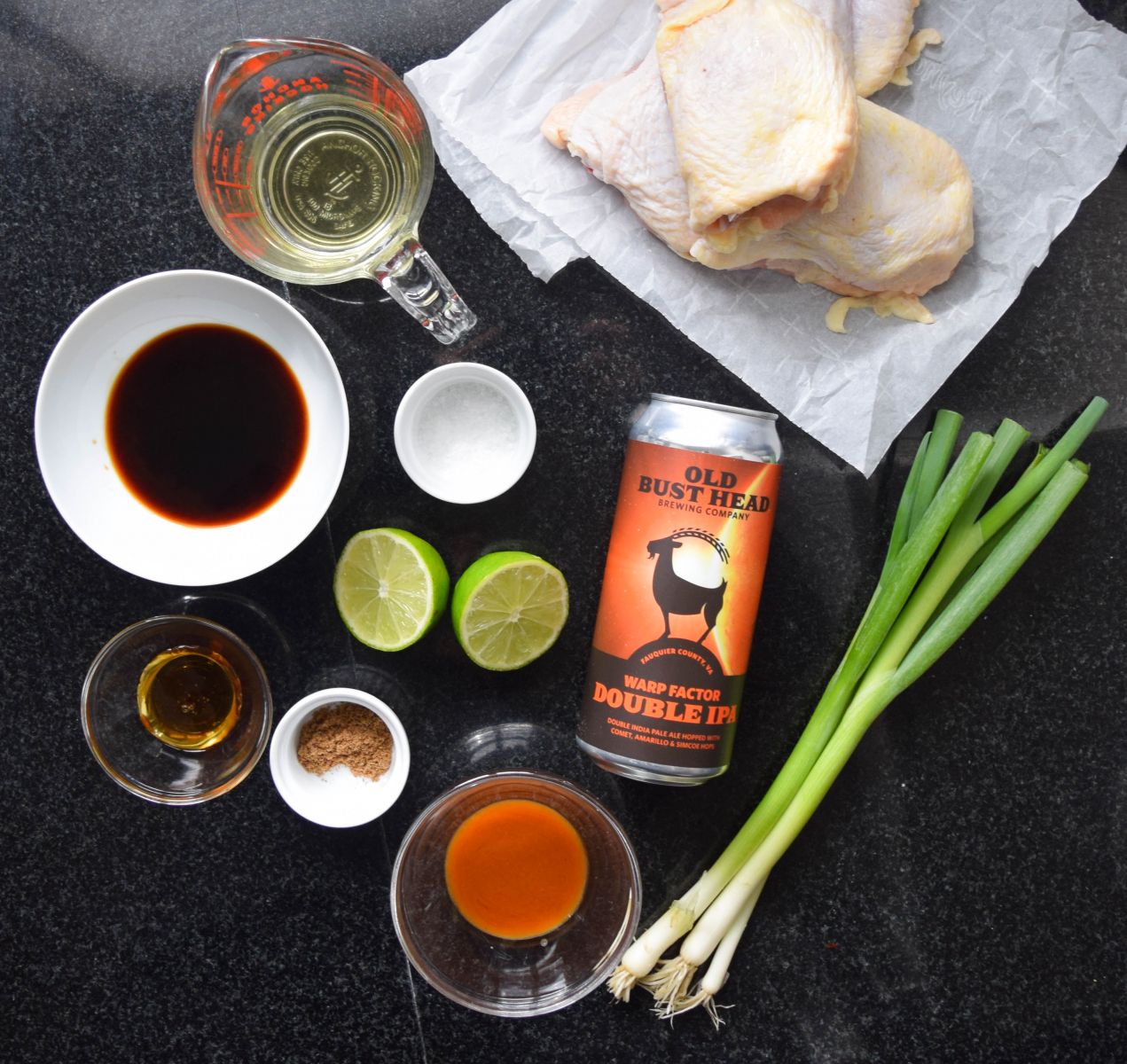 Directions: 
Place the chicken in a large container with a snugly fitting lid. 
In a large bowl, mix together the Warp Factor, scallions, chili garlic sauce, honey, coriander, salt, soy sauce, and vegetable oil.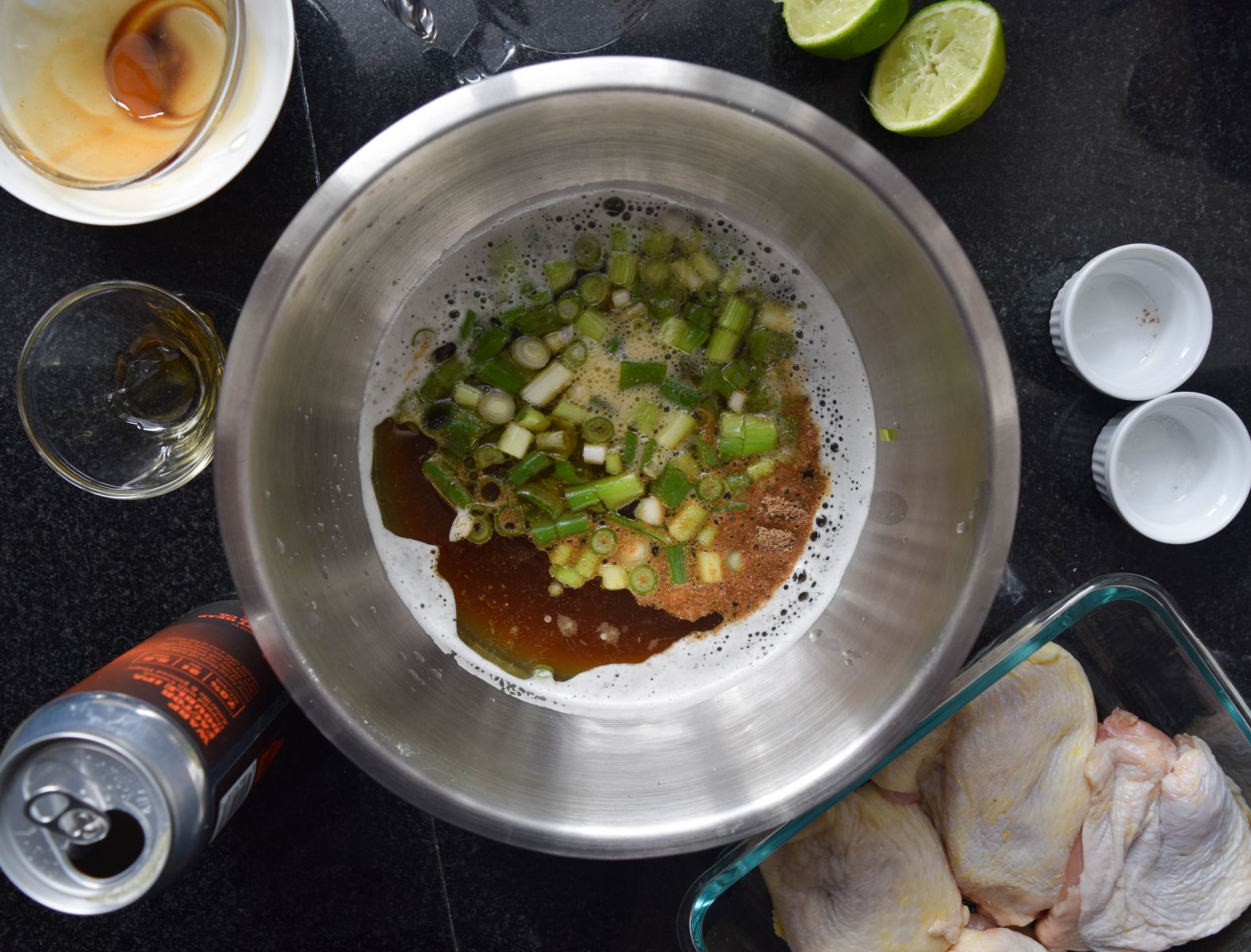 Pour the marinade over the chicken, cover the dish, and place the dish in the fridge for at least 30 minutes and up to 12 hours. 
After the chicken has marinated, remove it from the liquid and pat the skin dry.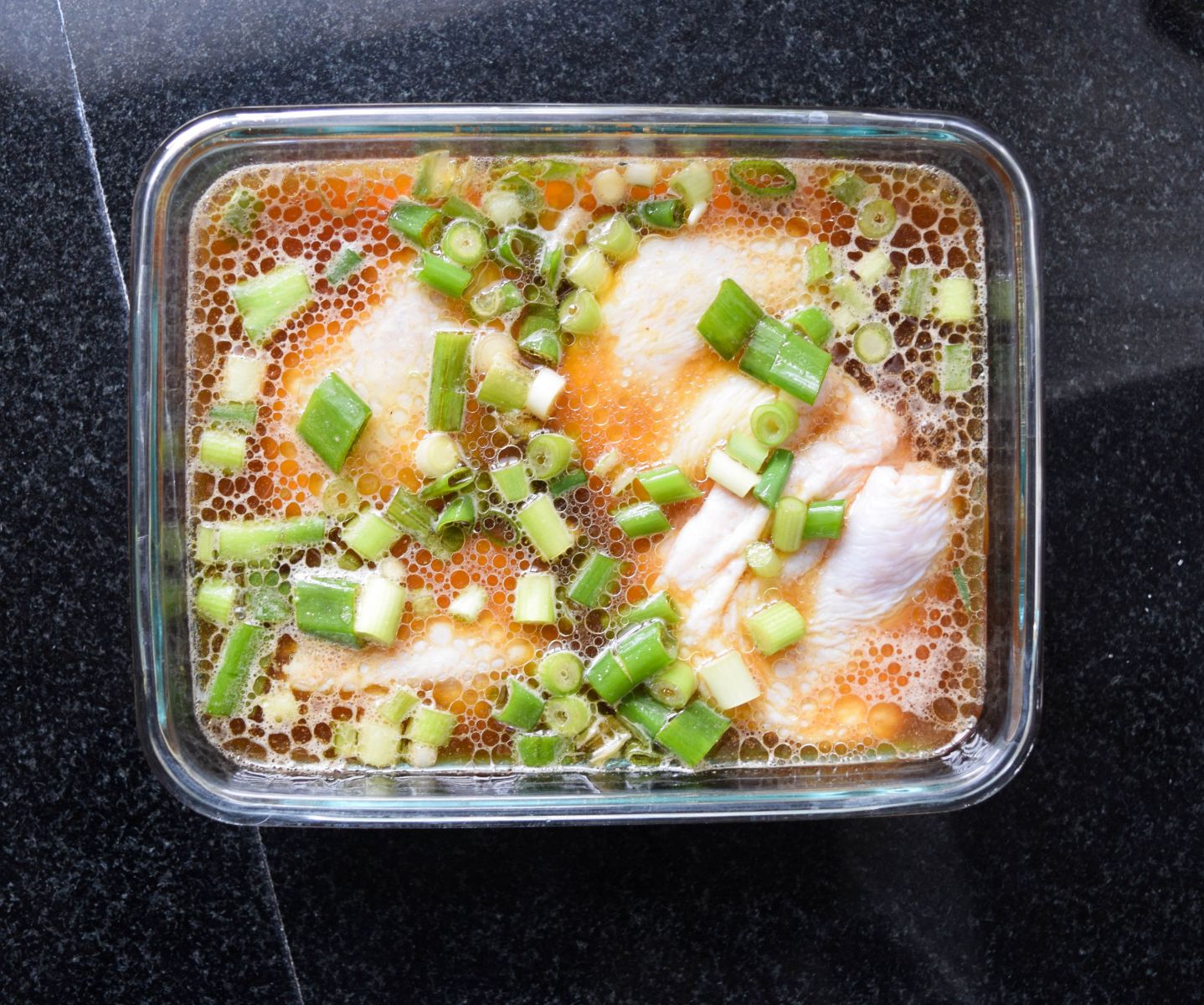 Preheat the oven to 350°F. 
Heat a few turns of canola oil in a cast-iron or other oven-proof skillet over medium-high heat. 
Place the chicken in the pan skin-side down and cook for 5 – 7 minutes until the skin is browned and crispy. Flip the chicken and cook for an additional 5 minutes.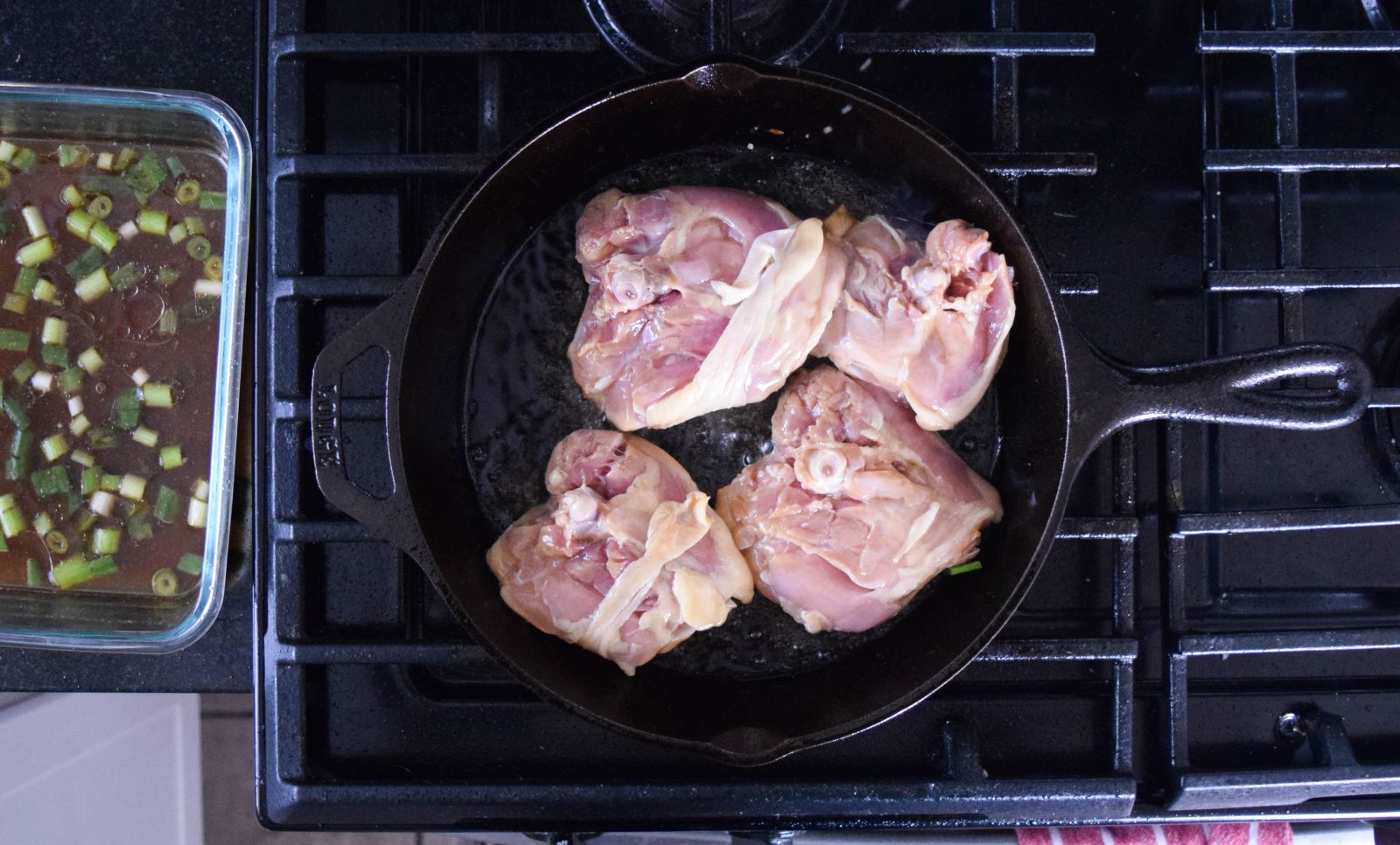 Transfer the pan to the oven and cook for 10 – 15 minutes until the chicken reaches an internal temperature of 165°F. Oven time will depend on how large the chicken thighs are.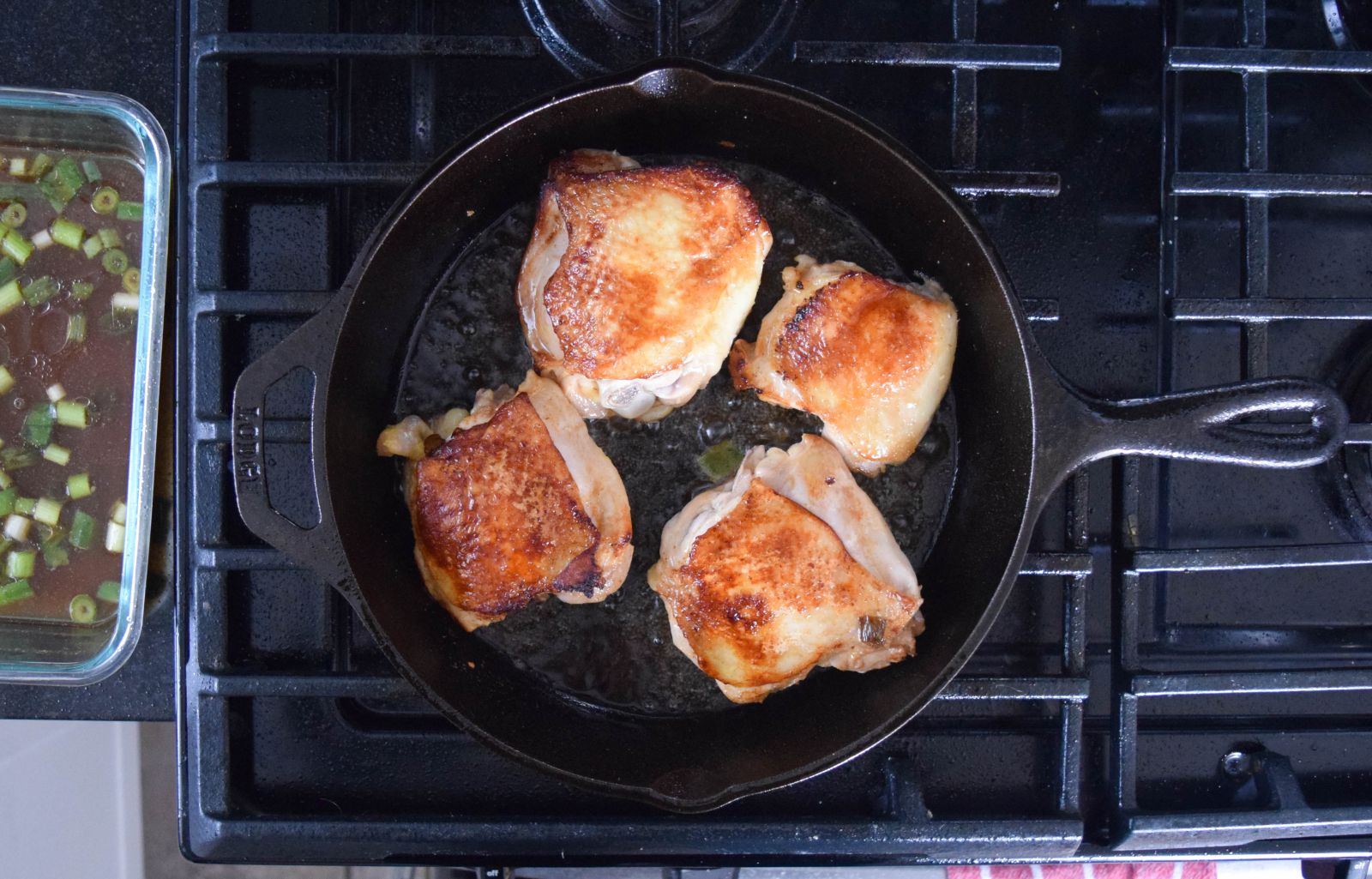 Once cooked through, remove the chicken from the oven and serve immediately. Enjoy with your favorite side and a tall glass of Warp Factor DIPA